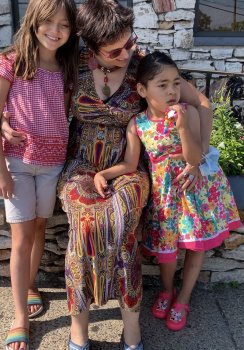 Nachi Luz Del Sol knew she wanted to grow her family through adoption.
Three years ago, she connected with Children's Aid in hopes of adopting a teenager to raise alongside her 9-year-old daughter in their New Jersey home. The adoption team at Children's Aid set out to fulfill her request but had a suggestion.
They asked Nachi if she wanted to meet Faith. At the time, Faith was 4 years old – nearly a decade younger than the teenager she imagined herself adopting. She is also medically fragile, which means she requires specialized care due to a genetic disorder.
"I never thought of adopting a child with special needs," Nachi said. "That wasn't my search. Then I met her."
If Nachi only saw Faith's information on paper, she said, she would not have decided to adopt her. Faith is nonverbal and has a pacemaker and a double defibrillator. At that time, she also wore a diaper and could not eat solid food. But during their first meeting, everything changed.
"I could tell right away that she is a social butterfly. We have a very similar personality," Nachi said. "I could tell right away that she's a fighter, she has a sense of humor, and she's very strong. It doesn't matter that she is nonverbal. I knew the day that I met her that she was my daughter without any doubt."
Her daughter, Amada, felt the same way. Nachi still has a video of their first meeting. While they had no hesitations after meeting Faith, friends and family were less certain that adopting her was the right thing to do.
"I'm a single mom. Everybody is going to have an opinion," Nachi said. "People said, 'Your home is very perfect, adoption will totally disrupt the calm.' That's not true. She doesn't disrupt anything. She adds to the joy of our everyday life."
Since Faith is nonverbal and her genetic disorder makes it impossible for her to understand verbal commands, Nachi communicates with her through actions. This change has allowed her to become a better mother, teacher, and person, she said.
"There's no comparison to the type of personal growth I experienced in these three years knowing Faith," she said. "What I say doesn't matter anymore. I'm learning with her different ways to act, different ways to be. The relationship is the action, the feeling, the energy of the home, my total trust in her."
The journey to adopting Faith became complicated due to the pandemic. Though Faith began living with the Del Sol family when she was 5, the adoption process took an additional year and a half because of measures put in place in the child welfare system to stop the spread of the coronavirus.
Faith's adoption was finalized on Oct. 28, 2021, when she was 7 years old.
"It was very, very hard to wait during Covid," Nachi said. "My [biological] daughter would cry every time we had a video visit."
During this period, the team at Children's Aid ensured that Faith kept up with every medical appointment and that Nachi had all the information she needed to care for her. This support during every step of the process has convinced Nachi to adopt more children. She is currently seeking to adopt teenagers.
Her relationship with Faith has not only enriched her life, but has also helped to educate the people around her and break down stigmas that come with adoption.
"Many people have this idea that kids in the foster care system cannot give love and are so damaged, and that's not true," she said. "I have friends and family members that didn't understand anything about adoption. They never saw it as an option. That impact is important, to know that you become a role model. Then it's easier for other people to access and to see what love looks like."
In Nachi's care, Faith has learned to eat solid food, is learning sign language, and working on strengthening other motor skills. While these improvements are welcome, Nachi knows that Faith will always require additional care. She has also had to explain to other family members that her genetic disorder will not miraculously go away.
I accept her the way she is," Nachi said. "She doesn't have to learn how to talk. If she does, good for her. But if she doesn't, she is chosen the way that she is. She shows me what the reality of love is.