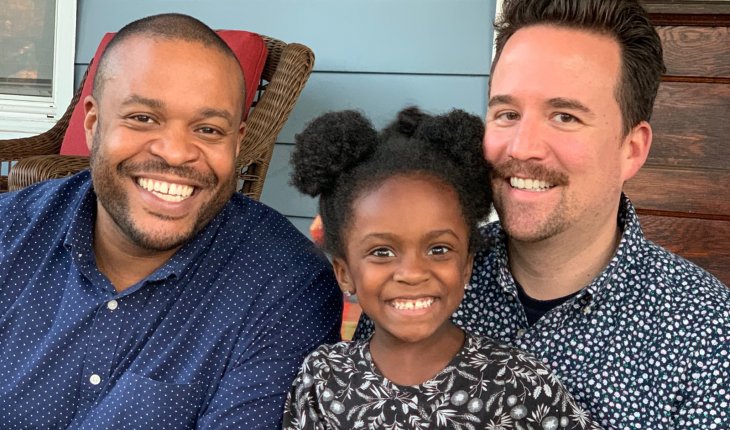 From the very beginning of their relationship, Jeff Bugajski and Tarik Flannagan knew they wanted to start a family together.
After connecting on Match.com and chatting for a few weeks, Jeff and Tarik had their first date at a karaoke spot in New York City. Tarik remembers walking in and seeing Jeff for the first time and realizing right away that they would spend the rest of their lives together. Jeff felt the same way.
When they met in 2008, marriage equality was still not a reality in New York. It would be another three years before New York would legalize same-sex marriages, and another five years before the United States Supreme Court would do the same for the rest of the country. Nonetheless, by the middle of the conversation on that first date, Jeff and Tarik were already talking about marriage.
"It was honestly like the third or fourth question we asked each other," Jeff says. "We said: 'If you could get married, would you?' And then right after that it was, 'Do you want kids?'"
They got married in 2015 and soon afterward decided to start the adoption process. At first, they considered options like surrogacy and private adoption, but then a coworker told Jeff to consider fostering a child as another option.
"Unfortunately, foster care can sometimes have negative connotations," Tarik said. "Those aren't true at all. Foster care is an option for loving families to give children good homes. That's what we wanted to do."
At first, they were nervous about how they would be received at the Administration of Children's Services open house, but the facilitator and the other families made them feel welcome. After completing their courses and acquiring their certification, they were told that the wait for a child could last for a long time.
Instead, Tarik got a call three days later that there was an infant who would need a home the very same week. Tarik called Jeff, who was shopping at Costco at the time, and they made one of the biggest decisions of their life. "I remember pulling the cart over and taking a deep breath," Jeff said. "I also remember thinking: Should I buy some diapers?"
They had assumed that their child would already have a name, but they were told that this baby girl did not yet, so they opened up a Word document and started listing off names they liked. They wanted to wait to see her to name her. Once they held her, they decided to say the name they thought best suited her at the same time.
"It was '1 … 2 … 3,'" Tarik said, "And then we both said, 'Avery!'"
After fostering for a year, Jeff and Tarik adopted Avery in September of 2017.
Then, in the summer of 2019, while they were returning from a getaway to Fire Island, they got another phone call. This time, Jeff answered. The woman at the other end of the line asked if he was sitting down. He said no. She said: You might want to. Avery's birth mother, she told him, had just given birth to a baby boy.
ACS makes it a priority to place siblings in the same home together, so Tarik and Jeff were given the first opportunity to foster this baby boy.
"We had just finished this weeklong vacation with all our best friends," Tarik said. "We were in our happy place. We were literally on the ferry with the wind in our hair. It was like a movie moment. It was so beautiful."
The couple is now in the process of adopting the baby boy (who's name is being withheld because he is still in foster care).
They've also moved out of the City and into Westchester County, where the kids enjoy the benefits of suburban life, like a little pool and a swing set in the backyard. They also have the support of a vibrant community of same-sex couples with children. That was especially important this month.
On June 17, Supreme Court sided with a Catholic social services agency in Philadelphia who refused to work with same-sex couples who wanted to foster children. The decision, announced during Pride Month, was a disappointing setback on the road to LGBT equality.
"We have made so much progress," Tarik said. "And then you see a decision like that, and it feels like we're still second-class citizens. It's disappointing to think that anyone would have an issue with us being a family."
Soon after that decision, though, they got some good news. After coronavirus-related delays in the court system, they heard back from their attorney that they should soon be able to adopt their baby boy.
For Tarik and Jeff, that means at long last completing the unlikely family that they dreamed of the day they first met.