In the last 18 months, there has been a signature cultural development that has garnered rightful attention. Young people are taking the lead in advocacy, taking a stand against injustice and the problems of the world, perhaps most notably in the face of gun violence and the government-sponsored hostility against immigrants.
So it shouldn't be surprising that leaders at the United Nations wanted to get that youth perspective weaved into its own work. That brought Miroslav Lajčák, president of the 72nd U.N. General Assembly, to Milbank Center, in Harlem, where dozens of young men and women had gathered to talk about the U.N.'s Sustainable Development Goals as well as immigration, poverty, and empowering women and girls, among other topics.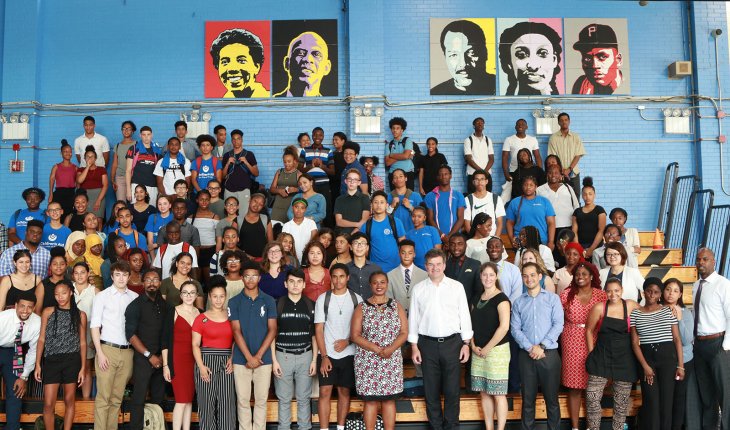 "It's extremely important that you care, that you speak up, that you look around and make yourself heard," said Lajčák. "People like to say, 'You're the generation of the future.' That's not true. You are the generation of the present."
A number of youth from Children's Aid programs were in the audience, including Maria Mohammed, a member of our summer youth employment program through our Health and Wellness division. She asked, "As youth, how can we implement goals of no poverty and no more hunger?"
Lajčák identified creating a sustainable environment as critical to those goals. "It starts with each and every one of us, how we act," he said.
Additional young people from Choice for All, the Bronx School Lab, Cyphers for Justice, Integrate NYC, and Bloomberg LP Startup Program offered thought-provoking questions over the din of several huge fans battling the sweltering heat. It couldn't hinder the enthusiasm of the youth or the U.N.G.A's president.
"We invite all of you to express your views on everything that we do," said Lajcák. "It's important to what I do tomorrow."