Budding chefs who have been participating in our Go!Chefs curriculum had the chance to show us their skills in June when they participated in the annual Iron Go!Chefs competition.
During the competition, 12 teams had an hour to create a healthy dish based on a book they read. Each team was honored by a group of judges for best taste, presentation, healthiest dish, and more.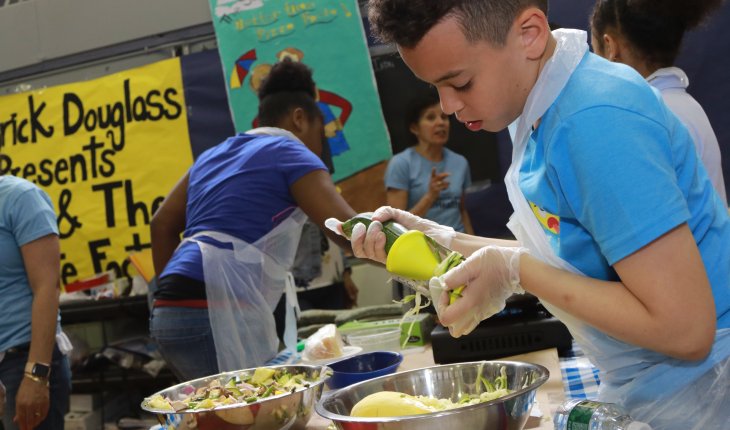 The high school team representing Hope Leadership Academy, Chop It Like It's Hot, won the top prize for their vegetarian Vietnamese curry soup. It was inspired by the book "Inside Out and Back Again" by Thanhha Lai.
The team received several prizes including the cookbook, "Between Harlem and Heaven" by JJ Johnson, Alexander Smalls and Veronica Chambers, a signed copy of Marcus Samuelsson's new cookbook, "The Red Rooster Cookbook: The Story of Food and Hustle in Harlem," and a feast at Red Rooster.
The Tomato Tornadoes of the East Harlem Center took the top prize at our elementary school competition with their "Sunday's Meatball Storm" dish. They were inspired to create this meal after reading "Cloudy with a Chance of Meatballs" by Judi Barrett. The young chefs were treated to a feast at Antonio's Trattoria in the Bronx.
To celebrate their accomplishments, the 12 teams are currently featured in New York Public Library locations throughout Manhattan and the Bronx. Visit these library locations to view posters showcasing our teams, their dishes, and the books that inspired them, which will be on display until October.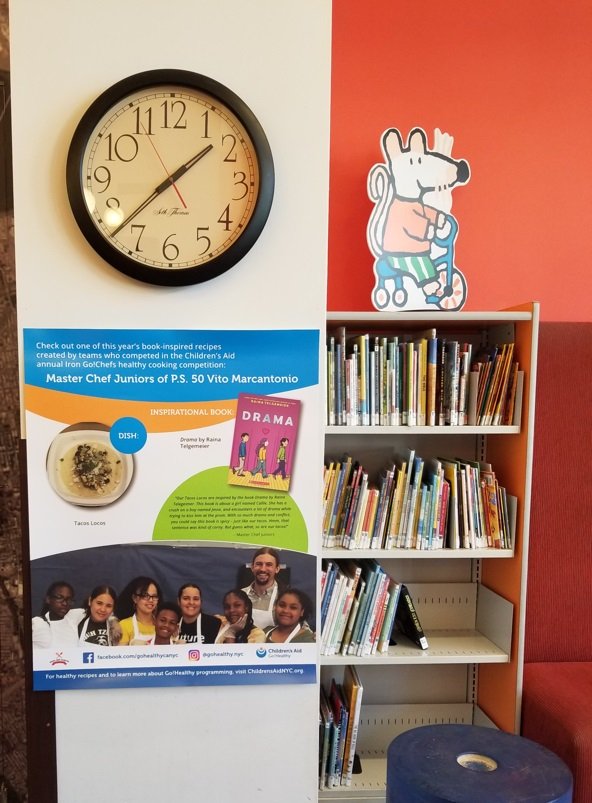 Bronx
C.S. 61/Samara Fairmont Campus, P.S. 211 /Whitney Young Jr. Campus
West Farms Library
2085 Honeywell Avenue, Bronx, NY 10460
Fannie Lou Hamer Freedom M.S./H.S.
Hunt's Point Library
877 Southern Boulevard, Bronx, NY 10459
Washington Heights
Mirabel Sisters Campus, Salomé Ureña Campus
Inwood Library
4790 Broadway, New York, NY 10034
Harlem
P.S. 50 Vito Marcantonio School
Aguilar Library
174 East 110th Street, New York, NY 10029
Opportunity Charter School
Countee Cullen Library
104 West 136th Street, New York, NY 10030
Hope Leadership Academy
125th Street Library
224 East 125th Street (Bet. 2nd and 3rd Ave.), New York, NY 10035
Frederick Douglass Center
Bloomindale Library
150 West 100th Street, New York, NY 10025
East Harlem Center
96th Street Library
112 East 96th Street, New York, NY 10128