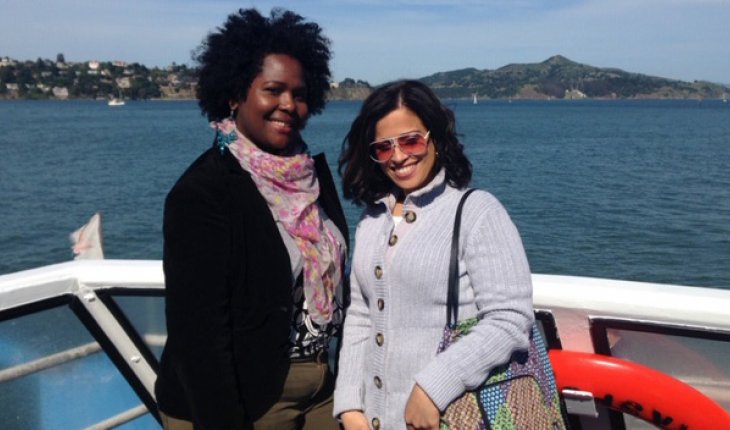 (Pictured from left to right: Community schools directors

Jeanette Frazier and 

Traciz Geraldo)

 
It's Community School Coordinators Appreciation Week, and often school coordinators and directors are the unsung heroes of successful community schools. These educators establish and manage the partnerships that allow students access to the supports they need to succeed and thrive.
To celebrate School Coordinators Appreciation Week, we spoke to two of our community school directors who are committed to ensuring our students learn, grow, and lead.
Jeanette Frazier is the Children's Aid community school director at CPEII. She was first introduced to Children's Aid in 1994. At the time, she was a young mother with a child in the early childhood program in Washington Heights. Because Washington Heights was a heavily populated immigrant community, many people did not speak English. Jeanette said she begin to get involved by helping teachers to translate materials and assisting parents in filling out forms.
Because of the relationships she established with teachers and parents, Jeanette was approached about working as an assistant teacher. She was hesitant at first.
 
"I didn't want to make this my profession, but little did I know that it became a passion for me, a real passion," she said. "I love the community, helping folks navigate the difficulties within the department of education, and what better place than being a community-based organization within a school."
In 1995, Jeanette enrolled at Lehman College, taking early childhood courses, and received her bachelor's degree in social work. She then applied to several colleges and got accepted to the advance standing program at Fordham University where she earned her master degree in social work.
When COVID-19 hit in March, Jeanette's role evolved. She said she worked to ensure the children and families had what they needed by mailing supplies and providing them with resources within their communities.
Jeanette said she feels so fulfilled in the work she does at Children's Aid.
"I like coming into work every day. If you don't love what you do, then there's no point in even going to work. But for me, it's definitely a chosen field," she said. "I feel like whatever we implement and whatever I do here, I can take home and implement in my life. So every day I learn something. And at the end, it's amazing to see what a group of people can do for an entire community."
Traciz Geraldo is also a community school director and works at Mirabal Sisters Campus in Washington Heights. She calls Jeanette her mentor.
"Jeanette has been a mentor, mother, and sister to me," said Traciz. "Together we work with an incredible group of young people and their families. Many in very vulnerable situations as they are affected by poverty and homelessness."
Traciz grew up in Brooklyn in a big family and was interested in helping people at a young age.
"I thank my family's belief in education for being the vehicle out of poverty and achieving the American dream for helping me to succeed," she said. "In addition to my family, I also thank the youth programs and the mentors that my family and I had along the way that helped us navigate through the higher education system."
Traciz went to Brooklyn College, and received her bachelor's degree in Psychology and then went on to receive her Master of Arts in Youth Studies at CUNY.
From 2001 to 2003 Traciz worked temporarily with the early childhood division at Children's Aid and in 2003, she accepted an office manager role at CPEII where she worked for almost 16 years. In 2019 she began working at Mirabal Sisters Campus as a community school director.
Today Traciz works with youth and families in many ways and is currently working to prepare them for going back to school. She is focused on ensuring her families are safe. The most important thing her staff can do, she said, is listen to families to make sure they have everything they need to have a successful school year.
"My team and I have and continue to provide families with support, opportunity for growth, financial assistance, and connections to resources," said Traciz. "Through building rapport and trusting relationships we can accomplish more and our families can also have the tools to succeed. Equity is key, not all of families have the same resources nor their basis needs are met which make it difficult for our youth and families."
Both Jeanette and Traciz are committed to the families they work with every day and say that although the work has its challenges, it is rewarding.
"During the pandemic I think that we all stepped up to the plate and there were no boundaries of time or hours of the day – we were a team ready to be available, to help parents with all this new technology, the new normal," said Jeanette. We helped to make sure the kids logged into their classes, letting them know that though it is virtual, that they still needed to be present."