Our Children's Aid history is long, groundbreaking, and quite rich. And we recently bid a fond farewell to an integral piece of our organization's history—Carolyn Masters has stepped into retirement after working at Children's Aid for more than 53 years. That's an incredible one-third of the time that we've been serving New York City children and families. Throughout her tenure, Carolyn has been compassionately helping children find loving homes. But the most amazing thing is that she remembers every single one of them. She is the embodiment of institutional memory for Children's Aid.
There is a nameplate on a door at Children's Aid that displays: "Ms. Masters." It references a gentler time, long ago. This was Carolyn Masters' office. Michael Wagner, Director for Permanency for Adoption and Foster Care, shared that the nameplate somehow fit her personality: "She was always so gentle in the way she did her work, sharing her insight and historical knowledge. She knew so much and was always willing to contribute in any way possible."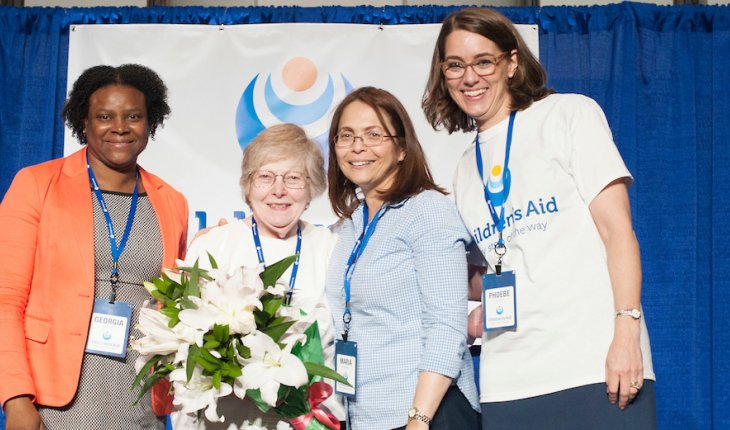 Carolyn was recognized for her 50 years with Children's Aid at the 2017 Staff Summit at the Jacob Javits Center. Pictured left to right (Georgia Boothe, Carolyn Masters, Maria Burgos, and Phoebe Boyer.)
Ms. Masters started at Children's Aid in December 1966 as a case worker, shortly after graduating with a master's degree in social work from Fordham University. She worked in the Natural Parents Unit, where young, predominately unmarried, pregnant women came for assistance. "It was a different time," Ms. Masters said in her soft spoken, warm tone. "We wanted to help them determine what was best for them and their child. Sometimes that meant a legal surrender. But we always wanted to make sure the mother and baby were secure."
Over the decades, her roles changed, but her goal to find happy, healthy homes for children persisted. She overlapped with six of our CEO's, all of whom turned to Carolyn for archival information. She could remember details about individuals and the organization stretching beyond her years with us, because she talked to everyone. "No one has the information she has," said Maritza Batista, Adoption Administrative Services Supervisor. "I've worked with Carolyn for nearly 30 years and she has always been my go-to person. Part of my job is to keep informed of what is going on with families, and she keeps track of that to great detail."
Among her achievements, Ms. Masters has gone above and beyond, evolving and innovating with the organization. She held monthly group orientation sessions with foster parent applicants, supervised graduate students, conducted foster parent training, often covered the intake/homefinding vacancy list, coordinated homefinding placements, conducted foster parent recruitment, trained staff in homefinding and adoption, was involved in permanency planning and post adoption services and participated/planned foster parent recognition dinners and luncheons. The list is even more exhaustive than this. Most recently, Ms. Masters was the Homefinding Quality Assurance Specialist, ensuring that all of 400-plus foster homes were recertified yearly, as well as other post-adoption services.
I met Carolyn 32 years ago, when she was the Supervisor of Homefinding. She had a sense of peace about her and was so thoughtful. She'd ask how you were doing and would make sure that everyone was okay.

– Milagro "Millie" Colon, Special Projects Coordinator, Foster Care
Michael Wagner recalled a job his department had taken over from Ms. Masters, providing information to adopted children who came back as adults to learn about their past. These sealed files are kept and opened upon special request. Recently, several decades-old files were opened and lo and behold, whose name was on there as the Children's Aid staff member, but Ms. Masters. She was there to help them as children and then again as adults.
If asked, she remembered every detail of the file. In fact, when Michael and Ms. Masters worked in the MAPP (model approach to partnership in parenting) program together in the late 90s, how many of the foster parents knew Ms. Masters. They'd see each other after quite some time and both of their faces would light up. These strong relationships are so important to the longevity and success of our programs.
This is what Ms. Masters brought to Children's Aid. She instilled success through her own perseverance. By being naturally friendly and kind, a determined and fiercely independent social worker who saw the positivity in everything, she is all-encompassing of integrity, creativity, respect, equity, accountability, teamwork, and effectiveness as a teacher, trainer, role model, and true selfless social worker to the core.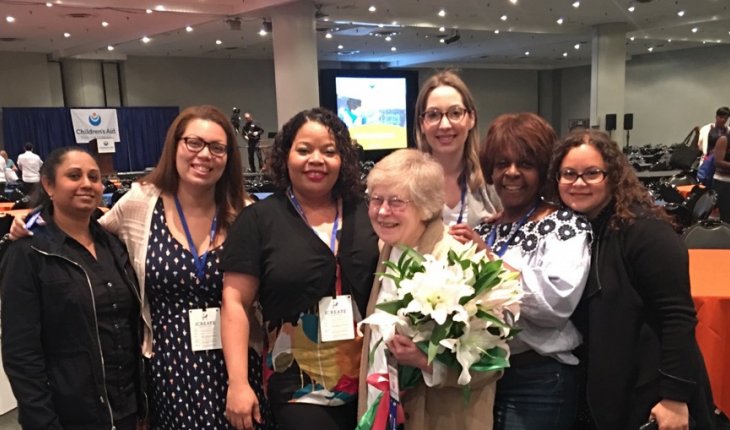 Carolyn with colleagues at the 2017 Staff Summit.
We asked Ms. Masters if she had any words of wisdom she wanted to pass on. She paused and softly said: "My coworkers have been wonderful colleagues, as people and coworkers. Not everything turned out the way we always wanted, but all we could ever do was try our best to help out as many people as possible. And if we do this consistently, we will get good results. That's just the way it is. So, I don't know if I have any words of wisdom, but I hope that the people at Children's Aid can keep as positive an attitude as possible—in their personal lives and the people they help and work with."
We're going to miss that practical mind, steady work ethic, historical legacy, and most of all, her smile.
Thank you, Ms. Masters, for 53 years of unparalleled dedication and service to NYC children, youth, and families. We are fortunate to have had you on the Children's Aid team.
Carolyn's depth of knowledge and attention to detail is unparalleled. She knows the answer to everything, remembering every single family. She has taught me so much over the years. Carolyn brought a sense of calm and assuredness to our team.

– Melissa Morrissette, Homefinding Director, Foster Care
Memories of Ms. Masters—Half a Century Helping NYC Children
 
"I met Carolyn 32 years ago, when she was the Supervisor of Homefinding. She had a sense of peace about her and was so thoughtful. She'd ask how you were doing and would make sure that everyone was okay. All of the foster families

ask

about her and she loves to hear their stories. And she cares about us too. In fact, when I had my first child, she even stayed with me at the hospital." –Milagro "Millie" Colon, Special Projects Coordinator, Foster Care
 
"When I first met Carolyn in 2013, I was so surprised that she had been here so many years…and remembered so much! She's so sharp and dedicated to the agency." –

Laudelina

Marcos, Homefinding Supervisor, Foster Care


 

"Carolyn's depth of knowledge and attention to detail is unparalleled. She knows the answer to everything, remembering every single family

. She has taught me so much over the years. Carolyn brought a sense of calm and assuredness to our team.

Everyone here loves her so much. She is our family." –Melissa Morrissette, Homefinding Director, Foster Care
 
"I so connect Carolyn to the adoption cards [files on connected families and children]. She knew them so well. A request would come in and she'd sift through the index cards to find the right one declaring, 'this is the kid, this is the family,' and then she'd go into details about their lives. As the cards and Carolyn got older, they became a metaphor for one another. Aging together. Making history together. She made connections with everyone she touched." –Michael Wagner, Director of Permanency, Adoption and Foster Care
 
"Carolyn is a beautiful, gentle and helpful person. She's always willing to go the extra mile to help a family, to help a child. She'll move the Earth if you let her, even on a Saturday. That's Carolyn. I'll miss her warm glow at work, and being able to call her any time I needed help to find the right solution to a challenge." –Maritza

Batista,

Adoption Administrative Services Supervisor
 

"I've known Carolyn for more than 15 years. From the time we met, she was so friendly and full of compassion and kindness. She has a willingness about her, which is one of her best qualities. She never really complains, just 'I'll handle it,' and it got done. Her positivity and happiness are

infections

. And her smile. She's always smiling." –Jackie Bodden, Adoption Specialist