Thousands of people have passed through the doors of the Goodhue Center on Staten Island.
The community center, which houses one of the largest greenspaces on Staten Island's north shore, has been serving youth and families since 1912. For many children accustomed to playing on concrete, the Goodhue Center was the first place they learned how to swim, took a nature walk, or tended a garden.
Countless campers loved their experience so much that they became teen counselors to extend their time there. Decades later, their connection to the center is just as strong thanks to a new generation of campers – their children.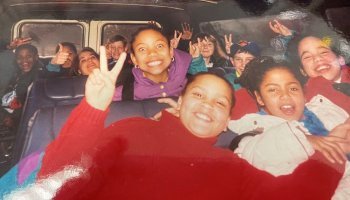 Jade Nightstar started attending Goodhue in the early 1990s. Her mother signed her up for camp at 10 years old. She loved it so much that when she aged out in high school, she became a counselor.
"I grew up in a low-income family household, so I liked going to Goodhue because it gave me a very different experience – going to the pool, meeting new people. And at that time especially, summer camp had children from different boroughs," she said. "I got to experience different cultures and it was just eye-opening that there was more to the world than just going to school."
Jade took advantage of all the activities the camp had to offer – swimming, cooking, arts and crafts, and sports. Though she wasn't the best athlete, learning the rules for basketball and kickball were fun.
Her time at the center – as a camper, counselor, and after-school program attendee – taught her to be open to new people and experiences. She also learned to be patient – all traits she argues are important in her role as a nurse practitioner.
Jade's children, 14-year-old Xavier and 11-year-old Aliyah started attending Goodhue when they were 5 years old. They partake in the same activities that their mother did, plus some new programs, including literacy classes. When Jade picks them up from the center, she still sees some of the same employees and campers she interacted with all those years ago.
"It's a little nostalgic when you see them. Everyone was always friendly, everyone was comforting," Jade said. "It was more like a family than a business. There was always somebody reliable to talk to."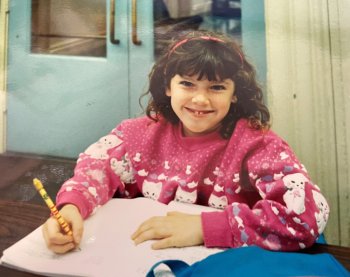 Laura Garcia remembers rowing a boat on the Goodhue pond, taking nature walks around the grounds, and having picnics in the lush woodlands. As an elementary school student, she was exposed to nature in a way most city kids were not.
That's why she decided to bring her 5-year-old son Vincent and 9-year-old daughter Olivia back to Goodhue.
"There's no place like it – the actual joy of being a kid back when we were young. We didn't have tablets and electronics," she said. "It brings you back to the basics like nature walks and good, clean fun. I love it now because my kids will come home singing the camp songs. I'm like, 'Oh my god, I remember that song!' It's cool to see that they still exist."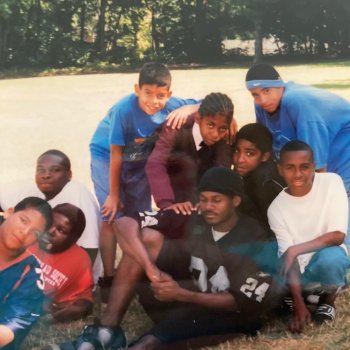 James Spurling began attending Goodhue Center in elementary school with his two younger sisters. The experience was transformative. He learned how to swim and play basketball, attended his first Broadway show, and met people who would become his role models.
"It saved my life in a lot of ways," he said. "Growing up in West Brighton in those times, Goodhue provided a positive place to be who I truly was and not try to be something that I wasn't or be in places I shouldn't be. You saw positive men doing positive things."
After ageing out of the programs in middle school, James became a counselor for the 9- and 10-year-old campers. He remembers striving to become a counselor as a young camper, rattling off names of staff members who inspired his decision.
It was a no-brainer for him to send his own children – 8-year-old Jordin and 6-year-old James – to Goodhue.
"I knew if I had kids and they were going to be raised on Staten Island, they would go to Goodhue," he said. Part of his decision stems from his desire to see his kids spend more time outdoors.
"With all of tablets and technology, you don't normally see kids being kids," he said. "I want my kids to know how to play kickball. I want my daughter to know how to jump Double Dutch. I want my son to know how to play a proper basketball game."
James remembers digging through the dirt for worms and making fires for a cookout. He wants his children to have a similar experience and as their first summer camp comes to an end, it seems they have.
"It's been great. They come home extremely exhausted," he said. "They say, 'Dad, we took a nature walk. I'm learning how to swim. You need to see me do my cartwheel under water.'"
When picking up his children at the end of the day, James sees the same staff members he interacted with all those years ago – the maintenance men who kept the property in great shape, Center Director Ilene Pappert, and some of his former counselors.
"They made a big influence on the way I live my life daily, the way I treat my kids," he said. "A lot of it comes form the way I was treated there. To this day, if I have a problem, if I need to reach out to them to pick their brains, I can still call these counselors I met when I was 10 years old."
Photos:
From L to R: Jordin, Aliyah, Olivia, Vincent, and James
Jade Nightstar (front, wearing red) with fellow Goodhue campers on a field trip.
Laura Garcia at the Goodhue Center's common room.
James Spurling (left, white t-shirt) with Goodhue Campers on the front lawn.