For the ninth year, the Children's Aid community of friends, partners, trustees, and supporters showed up, in a big way, and solidified the Children's Aid Benefit as a true evening of celebration and generosity. Each year we are humbled by the support of our guests, and inspired by the achievements of our youth, and this year was no different.
On Thursday, November 7 the Ziegfeld Ballroom opened its doors and welcomed more than 450 guests into its ballroom masterfully transformed into a white, blank canvas as a signal that the night would be an opportunity to "create your story." This theme paralleled the program as Children's Aid alumni and current participants shared their powerful stories of how specific programs and opportunities have supported their aspirations and paths.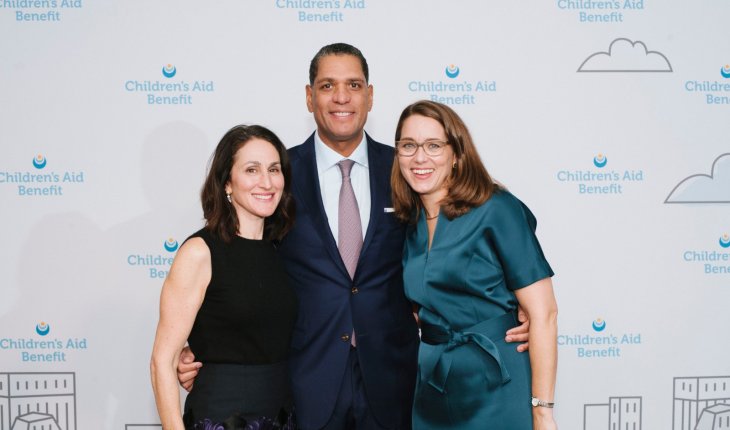 Led by Children's Aid President and CEO Phoebe C. Boyer, we honored Jose L. Tavarez, New York Tri-State Division Executive, Bank of America Private Bank, for his philanthropic values and direct investment in the communities we serve. In addition, we were thrilled to announce our new long-term partnership with Bank of America at the close of the program which will benefit our community schools in Washington Heights.
"Children's Aid, doesn't leave things to chance. They are making certain that every child in New York City gets their shot at a great life." – Jose L. Tavarez
After a spirited live auction that included a week-long stay in a villa in Jamaica, a box suite with 12 tickets to Elton John's 'Farewell Yellow Brick Road' Final Tour at MSG, a Las Vegas Aerosmith Concert + Meet and Greet, and a catered cocktail party for 25 guests, our program was off to an energetic start and carried through until the very end. As a special treat, Children's Aid alumni and Garden of Dreams college scholarship recipient, Tyrese Avery gave a moving performance of A Song for You.
The event was co-hosted by two Children's Aid youth, Glorivel Gonzalez, 17, and Amir Gooden, 17, and guests heard about the life-changing impact of our programs and services supported by the keynote speech of Julio Reyes, 24, who has been involved with Children's Aid since he was 13 and is now a graduate student at Binghamton University and working at Ernst and Young.
"I didn't do this alone and I don't want others to have to. Without Children's Aid, my dreams would have been smaller." – Julio Reyes
The Children's Aid Benefit reached a record-breaking year, and raised more than $2.1 million dollars to support the programs and continuum of services that nearly 50,000 New York City children and families rely on every day. The success stories of Tyrese, Julio, Glorivel, Amir, and our Voice of God, Janine Castro, 15, illustrated the importance of our impact.
"There is no Children's Aid without New York, and there is no New York without Children's Aid. We are the safety net for our city's children. And we will continue to be here for them as long as they need us." – Phoebe C. Boyer
We are beyond grateful to Jill Johnson and Tom Reynolds, Beth and Ira Leventhal, and Pascaline Servan-Schreiber and Kevin P. Ryan who served as Benefit Committee Chairs. Sponsors of the event included Bank of America and Chase and Stephanie Coleman at the Ambassador Level; Leslie and Ashish Bhutani, Jill Johnson and Tom Reynolds, Beth and Ira Leventhal, Melkus Family Foundation, Lauren Razook Roth and John Roth, Amy and Charlie Scharf, and Pascaline Servan-Schreiber and Kevin P. Ryan at the Hero Level.
You can view photographs from the event at our 2019 Children's Aid Benefit gallery.