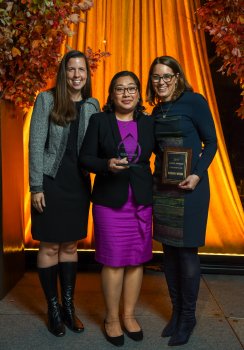 Children's Aid was one of the organizations recognized by Robin Hood at their 28th Annual Heroes Breakfast this morning. Wendy Do, a mom whose two daughters graduated from our East Harlem Center early childhood program, spoke about her experiences and how Children's Aid has been there for her every step of the way. Wendy, who was introduced by Katie Couric, delivered a beautiful speech, alongside two other amazing heroes. She also got to meet some new friends.
See Wendy's speech along with the other two heroes.
When she became pregnant with twins, Wendy made herself a promise: She would give them a better childhood than her own, which included two years in foster care. But less than six months after her daughters were born, Wendy — who is a single mom — was diagnosed with Hodgkins lymphoma.
Despite all the challenges she faced, Wendy was able to make good on her promise with help from Children's Aid. Their early childhood center in East Harlem was a safe haven for her twins, who graduated from prekindergarten with a passion for books and a joyful outlook on life. Over those same three years, Wendy overcame cancer and served on the Children's Aid Policy Council.