What is the purpose of a garden?
At Children's Aid, we have gardens at many of our sites across New York City, and they serve a multitude of purposes. At some sites, they are places of respite where young people and staff members can gather to admire the beauty of nature. At other sites, they are used to grow food that nourishes our youth and our communities.
But both of those types of gardens are planted primarily to benefit people. This spring, we decided to take a different approach for redesigning the garden at our Dunlevy Milbank Community Center in Harlem. Instead of creating a manicured garden or a space for growing food, we decided to plant a native garden.
"With Milbank, the garden wasn't serving a specific purpose for the children," said Matt Cheng, the manager for corporate volunteer services for Children's Aid. "That gave us an opportunity. We didn't pick the plants because they looked pretty or because of the food they produced. Instead, we chose them because they belong here."
The idea behind native gardening, which has become increasingly popular in the past few years, is to return plants to their native habitats. Native plants are particularly suited for the local climate and soil conditions, and they provide the foundation for a world of butterflies, insects, birds and other animals.
Native gardens require significantly less upkeep because these plants are adapted to thrive in their environment. They require fewer fertilizers and pesticides and less water, and they help reduce air pollution.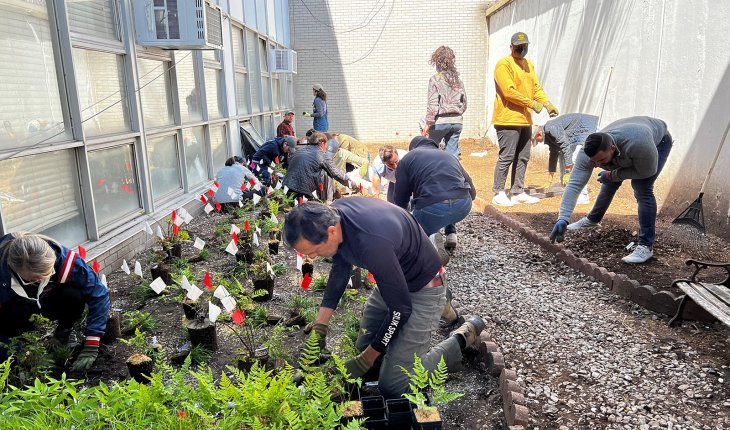 Most of New York's native ecosystem was destroyed during colonialism, and communities of color have suffered the most as a result. There are many high-profile native landscaping projects underway in New York, such as Little Island on the Hudson River, but they are primarily located in high-income and tourist areas. The approach is far less utilized in poorer communities, which already suffer the negative consequences of a lack of access to green spaces.
The idea to build a native garden originated with Taisy Conk, our director of food and nutrition programs. To implement that idea, Cheng recruited corporate volunteers from Wells Fargo and Bain & Company. On April 22, the volunteers from Wells Fargo helped to hardscape the garden, uprooting old plants that would be replanted elsewhere and paving a pathway through the center of the space.
A week later, the group from Bain & Company planted more than 750 plants in the garden. The plants included blackberries and ferns and grasses that will provide a vital space not only for the children of Milbank, but also for local bugs, bees, and birds.
"We're really thankful for our corporate volunteers," Matt said. "Because native gardens are mostly self-sufficient, we'll be able to maintain this beautiful space with a team of volunteers coming just once a year. It won't require as much upkeep from the staff at Milbank, who already busy doing such a great job caring for our youth."
The final step of the garden project at Milbank will be a mural that depicts and describes the native plants so that children can better understand the native environment of New York City.
"New York City is one of the biggest green cities," Matt said. "Given the amount of spaces we own throughout the city, there's a lot more that we can do to reintroduce native plants and to use them as an educational opportunity for our kids. Hopefully this garden is just the beginning."