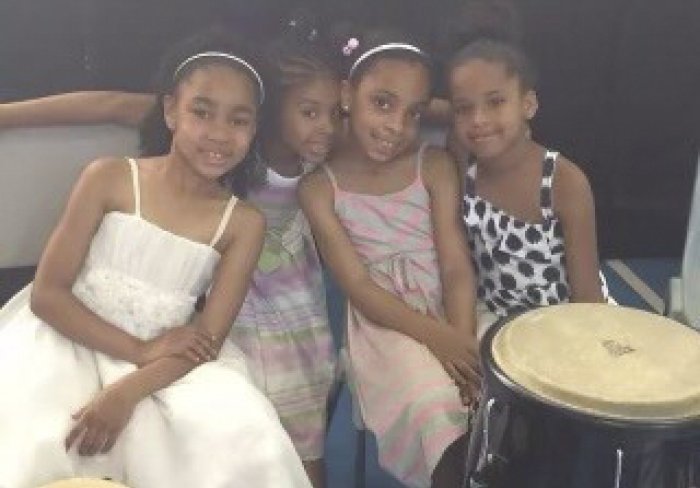 Aniya Germany has been going to our Dunlevy Milbank Community Center in Harlem for as long as she can remember. When she was younger, she enjoyed almost every activity at the center, with one exception: homework.
Our after-school and Saturday programming provide children with a lot of experiences in the arts and athletics, but they are all rooted in education. And the Milbank staff would make sure that Aniya did her homework every day.
Aniya, who is now a 16-year-old junior at Central Park High School, laughs when she thinks back to those days. Because these days, she still attends programming at Milbank – only now, she's the one helping the youth complete their homework.
"I first started doing it because I was spending time at Milbank anyway, and I saw that some of the kids needed help," she said. "And honestly, their homework is way easier than mine – it's refreshing to solve easy problems."
At Children's Aid, we recognize that mentors are crucial for the academic and emotional success of students. And mentors come in all shapes, sizes and ages, from adult tutors who help ensure the young people at our community schools stay on track with their attendance to our youth volunteers like Aniya who help pass forward the support they received when they were younger.
"Sometimes I see the kids' parents, and they say that their kids talk about me," Aniya said. "It makes me feel like I've done a good deed."
Aniya has a long history with Children's Aid. Her mother, Jameela Simmons, went to Milbank as a child and even worked for the after-school program and summer camps for a couple of years. So when she started a family of her own, she knew she could trust her kids into the care of the Milbank staff.
"My mom and I always talk about the different activities that are at Milbank now compared to when she was there," Aniya said. "She did things like cheerleading, whereas now it's a lot of music and dancing and arts and crafts."
As a child, Aniya remembers attending Milbank's annual Halloween and Christmas parties. One of her earliest memories is dressing up as a lady bug for a Halloween party and tearing the wing when she ran out of the haunted house afraid.
She was also able to participate in many of Milbank's athletic offerings, from track to hockey. She even got a chance to play hockey on the Rangers' home ice at Madison Square Garden when she was in fourth grade.
She went to Milbank most days after school and on Saturdays from kindergarten through eighth grade. She took a brief break during the pandemic, but returned in September to be a part of our teen programs – and to pick up her 13-year-old sister, Nijah, who also goes to Milbank.
"The teen programs open up a lot of opportunities," Aniya said. "There are focus groups where companies like UPS come by and pay us to take surveys, and there are group sessions where my friends and I get to talk about what's happening our life with a counselor – it's kind of like group therapy."
There are still outings, like to Bowlero in midtown, where Aniya is trying to save up enough tickets to buy a big cutout of Wonder Woman. But what she likes best about Milbank is the opportunity to give back.
"When I was younger, I know I wasn't always the easiest to deal with," she said. "I had some anger issues. But the staff there really helped me grow up, and now I get to help other kids grow up, too."