Over the years, countless young athletes have found their start in Children's Aid sports programs. Recent alumni from Harlem alone include Isaiah Washington, point guard for the Minnesota Golden Gophers, and Mohamed Bamba, an NBA lottery draft pick by the Orlando Magic, who both participated in the basketball program at Milbank. In addition to the support from the staff who run these programs, student athletes have been guided by a sports legacy at Children's Aid that—whether they knew it or not—has been sustained by a veteran sports educator and fellow athlete from Harlem: Coach Kelsey Stevens.
"There's a big social element to sports," said Kelsey. "It builds so much character and sportsmanship."
Coach Stevens, known more amiably as Kelsey, has long realized and championed this larger understanding of the power of youth sports and athletics at Children's Aid. He joined the organization in the early 1970s as the sports and recreation coordinator who worked across ages to engage youth. Sports like basketball can provide young players with role models and mentors. And with a little luck and hard work, youth athletes can access opportunities that could solidify their educational and professional careers. To Kelsey, it was clear from early on that he could tap into his students' reverence for sports to connect its importance to their education.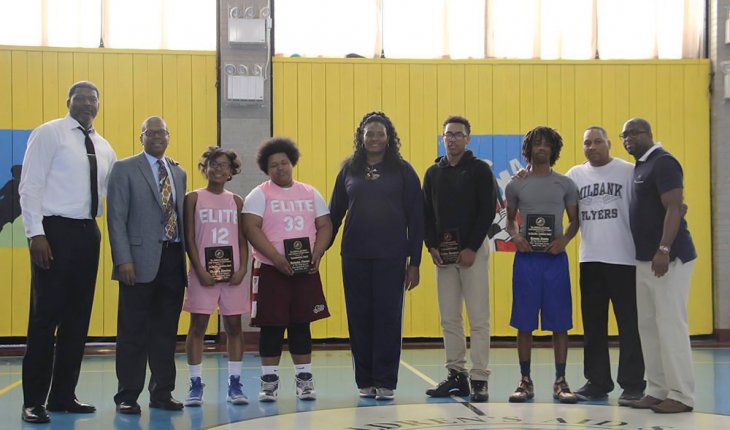 First came the "Study Now, Play Later" Saturday tutoring program at the Frederick Douglass Center which required students to keep their grades up in school in order to play in the gym. He drew from the lessons he learned coming up under other Children's Aid titans like Herman Bagley and Roger "Buster" Bryant to help the program flourish.
"I've had terrific mentors and I've absorbed all the information from them. They saw the light in me," he said. "That's how it was taught to me and how I teach it to others."
Kelsey has continued to pay their investment forward ten-fold with his own mentorship of Children's Aid staff over the years, including Roosevelt Byers, the coach of the Milbank Flyers boys' basketball program, and Eddie Britt, who runs the current iteration of the "Study Now, Play Later" program at Milbank on Saturdays. To Kelsey, that was the surest way to sustain the longstanding impact of youth sports programming and education in the community.
Kelsey has also run the Sports Management Program, which introduces young people ages 14-22 to the business side of the sports world, since the late 1990s at the Frederick Douglass Center. Most young athletes and sports lovers might not always get to play their sport at a professional level, so Kelsey tries to broaden their understanding of the opportunities that are available to them.
"I always tell [my students], you know who else is on the court or the field along with the players? The referees. They are there with them for the whole game, and they get paid for it too," he said.
Former students from the program have gone on to study sports medicine and have become sports managers at top universities. But no matter where their success may take them, they always find their back to Harlem, to fill Kelsey in; he takes great pride in hearing about their college acceptances and graduations.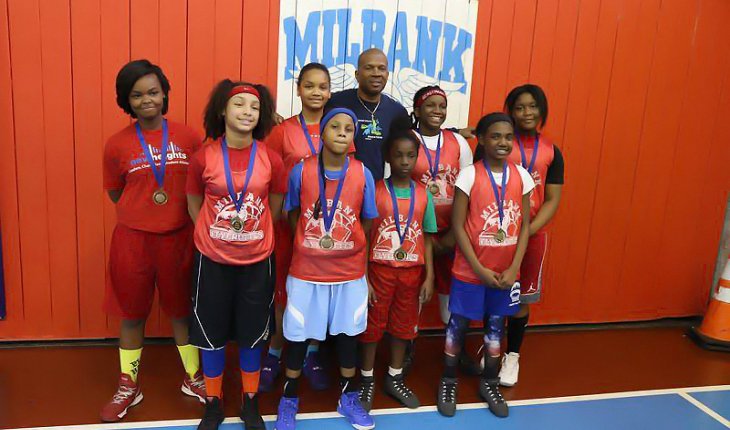 "It's what continues to motivate me," he said.
This fall Cinnamon Dockery and Jordan Nixon will attend St. Peter's University and the University of Notre Dame, respectively, to play on their women's basketball teams. They are two alumnae of the girls' basketball program Kelsey created at Milbank in 1988 and still coaches today. His investment in the program means that he dedicates his Sundays, the only day when the gym at the center is available, to practice. It's a small sacrifice for the sports educator who sees all of his work achieving something greater than himself: life-changing opportunities for the young athletes in his community through quality sports education.
"Someone has traveled a rockier road than I have. I'm gonna make your road smoother than mine," he said.