Jane Quinn, vice president for community schools and director of the National Center for Community Schools, brings a close to her nearly two decades with Children's Aid as one our most committed, influential, and inspiring leaders.
For nearly 50 years, Jane has worked passionately to seek equity of opportunity for all young people. Even as a little girl, Jane seemed to know this was her destiny. She told her mother she wanted to grow up to be a psychiatrist because, "they help people." Her long and exceptional career of helping others includes work in research, philanthropy, program development, direct service, and nonprofit executive roles.
In 1966, after completing her undergraduate degree at the College of New Rochelle in New York, she got a job as a caseworker at Catholic Charities, where she was first introduced to her passion for helping youth in need.
She went on to earn her graduate degree at the University of Chicago's School of Social Service Administration where she met her husband, Terry. She then worked at the Juvenile Protective Association of Chicago, investigating and responding to accusations of child mistreatment. Jane says she continues to draw, every day, on this experience, where she learned "the lesson that even the most troubled families have strengths and want the best for their children."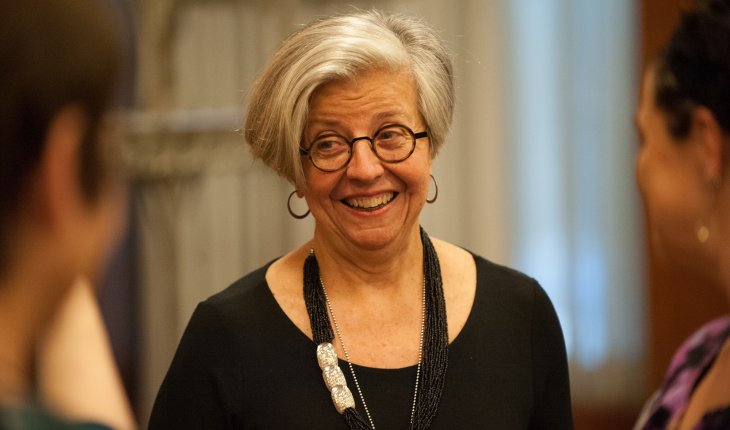 Soon after, Jane and Terry embarked on a new journey to Washington D.C. Jane got a job in social work at the District of Columbia Health Department. During her first week on the job, she noticed an elementary school across the street and went to see if they could use the Health Department's help. She quickly discovered they needed assistance with sex education. Jane, who had spent 17 years in Catholic schools, was unsure if there was much she could offer. Although this was not an area of expertise for Jane, she was resourceful.  She discovered that the D.C. Health Department had tons of resources on sex education and other health issues. She and her colleagues ended up not only working with that school, but others in the area. She quickly became a trusted and reliable source in her community.
Jane then joined the staff of the Center for Population Options (now Advocates for Youth), an organization dedicated to helping young people make informed and responsible decisions about their reproductive and sexual health. Jane worked with dozens of youth-serving organizations to develop educational programs on adolescent sexuality.
As her star was rising in the reproductive health world, Jane was recruited by Girls Clubs of America as its national program director. She took her work to the next level and designed and implemented innovative core curricula and programs that catapulted her onto the national stage. She spent time traveling across 38 states visiting sites that served children from under-resourced communities. "I was aware of the need to thoroughly hone not just my skills but my understanding of the context of my clients' lives," she says. The combination of her experiences and these travels allowed Jane to lead the development of several dynamic programs in various areas, such as substance abuse prevention, computer literacy, sports, and youth employment.
Simultaneously, Jane served on a Carnegie Corporation task force focused on middle school reform. She was subsequently recruited by Carnegie to join the staff where she concentrated on the importance of outside-of-school learning. This focus led to her study titled, "A Matter of Time: Risk and Opportunity in the Nonschool Hours," which stressed the importance of creating networks of community support for youth during after-school hours. It pays special attention to the needs and interests of youth from low-income families and of diverse backgrounds. The study would later be nationally recognized and lead to extraordinary changes in after-school and out-of-school-time programs.
Her next career move would take her to the Wallace Foundation as a program director where her strategic planning and grant-making focused on teacher effectiveness, parent engagement, youth development, and school-community collaboration.
In 2000, Jane joined Children's Aid, where she embedded herself in our local community schools work in Washington Heights. She was charged with building the community schools field and positioning Children's Aid as national leaders in the movement. "We have built a field, we have built a movement – none of us did it by ourselves," she observed, "and the influence of Children's Aid in the field of community schools cannot be overstated."
Jane's guidance and wisdom have touched the lives of teachers, administrators, and researchers across the country. Her work at the National Center has influenced nearly every major community school initiative nationally and internationally. Through Jane's efforts, the movement has reached hundreds of thousands of school community members worldwide.
Although Jane is departing, her incomparable efforts and groundbreaking work will live on. This fall, she will start her next chapter, pursuing a doctorate in Urban Education at the CUNY Graduate Center where she will reach her lifelong professional goal as well as fulfill her unwavering intellectual curiosity. And as Jane likes to say, she's not retiring, she's rewiring.
We wish her the best in her next pursuit and thank her for all she has done to ensure equity for our nation's young.