When Kissis used to plant flowers at home, she wondered why they wouldn't grow. Adriana, who shares a love of plants with her mother, thought she didn't have the green thumb needed to help them flourish. So when both mothers saw that gardening classes were starting up at their kids' school, they decided to sign up. The classes are a unique blend of Go!Healthy's gardening initiative and the parent engagement work that Children's Aid community school staff in the Bronx have worked hard to develop.
Kissis and Adriana are now part of a group of a dozen parents who meet every other Friday morning at C.S. 61 in the school's parent room before they head into the school's garden, which sits off to the side of the building. Although the space is only large enough to hold a few flower beds, in it has blossomed a community that parents and staff have worked together to nurture. In forming this tight-knit community, the group has had tremendous help from Yselly Olivo, the Children's Aid parent coordinator at C.S. 61. In addition to translating the gardening lessons into Spanish and recruiting parents, Yselly also brought her own personal interest in gardening to the table. She too shared a similar frustration to Kissis and Adriana. "My plants were not growing," she said. "I kept asking myself, 'Why are they dying?'"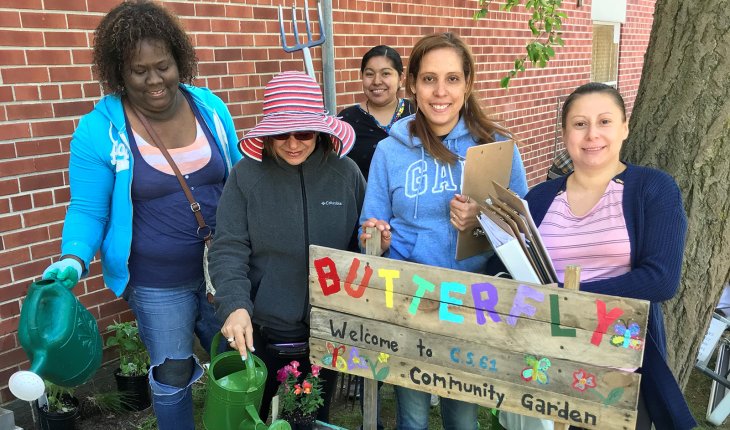 Corey King, Go!Healthy program manager for Go!Chefs and Gardens, designed the gardening classes to make sure that the parents not only left with the knowledge they needed to, but that they also felt like they had ownership over the garden and weren't just visitors. She and members of her Go!Healthy team coordinated with the Children's Aid community school staff at C.S. 61 to employ parent engagement practices that have empowered the parents in the school community.
"A lot of what is in the garden [snapdragons, cilantro, and jalapeno peppers] came from input from the parents who told me what they wanted to grow," Corey said.
The group democratically elected Reyna, one of their peers, to monitor the garden's watering schedule, which she manages with a binder. They also decided to create a WhatsApp group so that they could keep in touch with each other between their gardening sessions. They have quite naturally bonded around their appreciation of growth and transformation. Perhaps most poetically, they decided on a name: the Butterfly Garden.
"I am fascinated by nature," Reyna said. "It does so much for us. And it's easy to forget that."
Over the last few weeks, the classes covered a range of topics such as composting, transplanting, and seeding. The lessons have all been illuminating, especially the ones that taught the group to identify "good soil."
"What we thought was good soil was not it," Yselly said. "And the right way to transplant. It blew the group away."
"I didn't know you had to treat the roots with more care," Adriana agreed. "Now I know why my plants always died."
For the next several weeks into the summer, the group will plan and prepare for growing annuals like tomatoes. In the fall, they will talk about how to put their garden to sleep for the winter, and Corey hopes, create a harvest agreement. But many of the parents have already been able to take home some fruits of their labor. Kissis has found that she can now share her love of gardening with her kids.
"They love it. And I feel more secure about doing it with them now," she said. "I have learned so much."