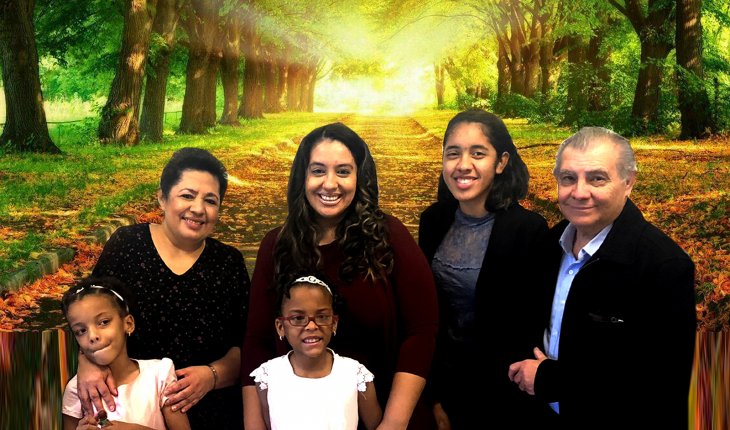 Silveria Corina Miner has met hundreds of children while working as a school bus driver across New York City.
Sometimes, Silveria stops at family shelters or foster homes to pick up students. Her interactions with foster children, both in her job and at her local Bronx church, inspired her to become a foster parent herself.
"A lot of foster kids come to church every Sunday and we see the needs that they have and they only need love and direction," she said.
After hearing about Children's Aid from a parent she met on her bus route, Silveria and her husband Armando decided to open their home to children in need of stability. They thought their granddaughter would also benefit from having other children to play with at home. 
In 2015, they welcomed sisters Eternity and Essence into their home. The girls were scheduled to stay in the Miner home for one month until their mother recovered from surgery.
When they first entered the Miner home – Essence was 3 years old and Eternity was 18 months – both girls could not walk or talk. Essence needed eye surgery to correct weak eye muscles and Eternity was diagnosed with Autism.
One month turned into six years and Essence and Eternity were officially adopted on Nov. 22, 2019.
"We never thought that we were going to fall in love with the girls the way we have," Silveria said. "The girls changed our lives completely, definitely. The first day I had to sleep with them because they were too little."
Silveria and Armando have two grown children but found themselves, in their 50s and 60s, changing diapers and staying up at night to care for toddlers.
"We didn't change pampers anymore…but now we had to stay awake during the night," she said. "We had to bring a crib, a play pen, had to buy walkers for the girls because they don't know how to walk, and there were bottles everywhere."
Though raising two young children was difficult at times, Silveria said the struggles were worth it now that the girls are doing well and have a stable home. Before living with the Miners, Essence and Eternity, now 9 and 7, respectively, shuttled through seven foster homes.
"It's amazing how the girls changed," she said. "They are very independent. Essence tells me, 'Mommy when you are old, I'm going to take care of you.' Thank God for Children's Aid because they gave me my girls."
Silveria and Armando continue to foster children on an emergency basis and have fostered 26 children in the last six years.
November is National Adoption Month – a joyous time to celebrate families that have grown through adoption and raise awareness of the more than 125,000 children waiting in foster care in the United States. Sadly, the number of children still waiting for a safe, loving home is far too high.
Maritza Batista, an administrative supervisor, who has worked at Children's Aid for 20 years says as a supervisor her job is to identify – with the help of others on the team – those children who have a chance for adoption.
"I think the most important attribute for adoption is that both the parents care, genuinely care about the child and want to provide a stable environment," said Maritza. "What a child is looking for is that emotional connection - this is my mom, this is my dad, and this is my home."
If you are interested in becoming a foster parent, email or call us at 212.949.4905.