The parking lot in the Plaza del Castillo on Southern Boulevard sees more foot traffic than usual on Thursdays. In between community members visiting the health clinic, parents dropping their children off at the Bronx Early Childhood Center, or Children's Aid staff heading to work inside the Bronx Family Center, there are also the customers for the farm stand run by the Children's Aid Eat Smart New York program, which sits in the middle of it all surrounded by boxes of fresh fruits and vegetables.
"Todos los dias están aqui?" an older gentleman asked Mariah, the farm stand coordinator on a recent day in August. "Are you here every day?" By noon that day, there had already been a number of curious passersby who had asked a similar question after spotting the signs advertising the fresh produce.
"Solo los jueves. Si quiere registrar para una caja, pagar hoy por la próxima semana," Mariah explained in Spanish. If he was interested in registering for a box of fresh fruits and vegetables—clients take their haul home in hefty reusable shopping bags—he would have to pay that day for the following week. What makes it worth considering? The price: $10 with cash, debit/credit, or just $8 with EBT.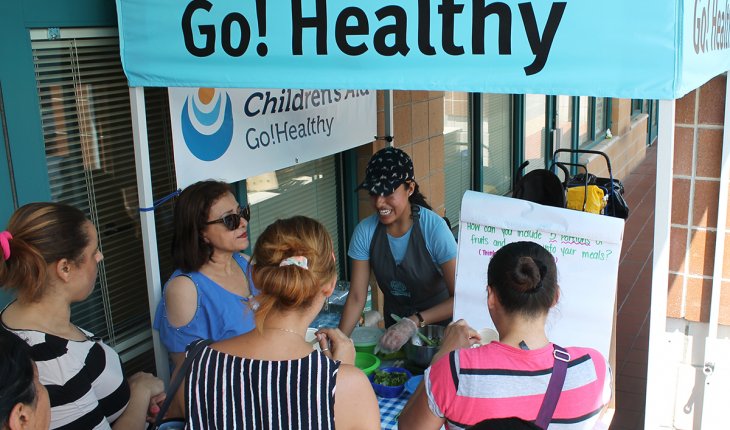 Nutrition through Food Justice
Most people who learn about the Go!Healthy Food Box program for the first time are skeptical about paying for groceries a week in advance. In neighborhoods like the South Bronx and Harlem, more and more green carts, local farmers markets, and super markets are popping up to provide healthier options. On the North Shore of Staten Island, options are still limited. But in each of these areas of New York City, the Go!Healthy Food Box distributions prove to be an accessible option, to purchase local, farm-fresh produce for families and community members near Children's Aid services.
Mariah: I did a price comparison at the end of the season last year comparing our program to local grocery stores and high-end grocery stores like Whole Foods and farmers markets, and our program is a third of the price of all of the other options. We also want it to be accessible in every single way. So, it is physically right here so that proximity wise it's accessible. Also we realized last year that even though people are buying the vegetables, they might not know what they are, they might not know what to do with them. So we provide the recipes and have nutritionists on site to answer questions about how to store it and how to use it. And being able to taste it, just takes it to a whole other level that other programs aren't doing."
Beth Bainbridge, manager of the Children's Aid Eat Smart New York (ESNY) program has been operating Food Box distributions for the past three years. She went into this year's distribution with a goal of maximizing the reach of the initiative. In addition to setting up operations at the Milbank Center in Harlem this summer, she also organized food box distributions to run from key Children's Aid sites to satellite locations. The Goodhue Center in Staten Island feeds into the Richmond Early Learning Center, and the Bronx Family Center supports both the Samara-Fairmont school campus a few blocks away from Southern Boulevard and the P.S. 152 campus in Washington Heights. The distribution at the C.S. 211 campus on Tremont Avenue in the Bronx makes a total of four distinct distributions that the ESNY staff run over the course of 16 weeks during the summer up until Thanksgiving. The work takes a lot of people power—a team of ten people to be exact, who are all approaching nutrition through a food justice lens.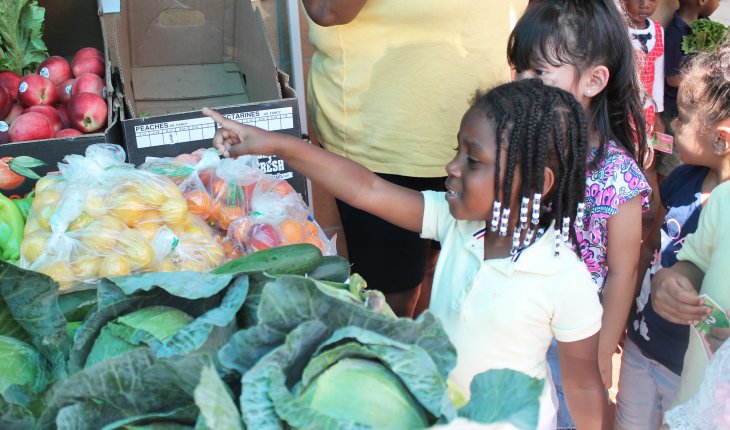 ¿Quiere probar nuestra salsa de melocotones?
"Everyone is so instrumental in this and so flexible with their duties. That is what we really need for this to be successful," Morrison, another of the distribution's coordinators said.
Morrison, Wei, a nutritionist, and Beth, pack the bags together, keep count of extra produce, and coordinate the satellite distributions. When it all comes together, a sea of Go!Healthy canvas bags are filled to the brim with a different mix of fresh fruits, vegetables, and herbs handpicked by the ESNY team each week. Then they distribute the bags to customers who purchased their bags the previous week and sign up new ones for the following week.
And if they weren't busy enough, the ESNY team also tacked on Farmers Market for Kids classes at the Bronx Family Center this summer, which taught children how to purchase their own produce. Groups from Children's Aid summer camps held at Children's Aid College Prep Charter School and Fannie Lou Hamer Freedom High School and the Bronx Early Childhood Center took walking trips to the farm stand to taste and used Health Bucks to take home some of the fruits and vegetables from the food box. The stars of the box that week in August were yellow and white peaches that the team made into una salsa de melocotones, a peach salsa, that was a hit with kids and adults alike; the recipe was included in that week's food box.
"It's important for kids to learn about fruits and vegetables and then to let them buy their own," said Reyna, who teaches the classes along with her co-teacher Merced. "Sometimes parents don't allow them to pick. So it's important for them to learn to tell their parents that they can choose when they go to the supermarket or the farmer's market, to let them have a choice."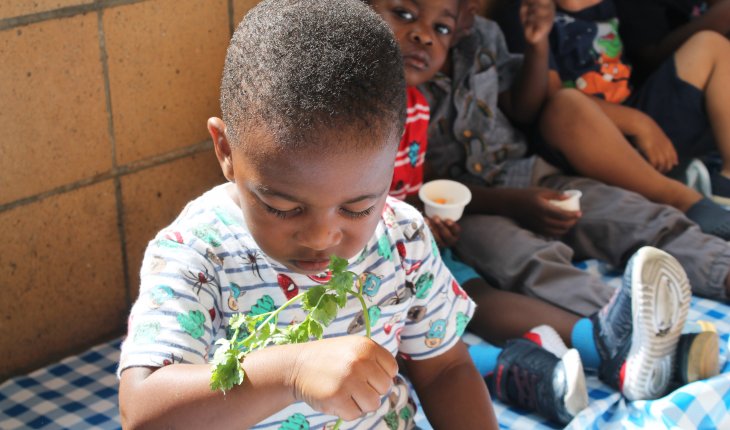 Merced, who also delivered ten bags to P.S. 152 that afternoon after she finished teaching, had a similar realization about educating parents who keep coming back to purchase the food boxes.
Merced: Some parents are very open to trying new things, and others need a little bit more help. But being able to tell them how to prepare certain things, that's really good. And then they're like, 'Oh. Okay that's how you make it.' And then they come back the following week and they're like 'I tried this thing out that you told me about, like Swiss chard for example. A parent was like, 'I sautéed it and I added it to my soup.' It was a Mexican woman, a mom, who told me this. I'm Mexican too. She asked me, 'What do I do with this?' And I told her, 'You know, I'm learning too.' Being part of this program and just nutrition in general has definitely just opened myself up to trying new vegetables that I didn't grow up with. So [the impact] is also exposing other people to these things as well.