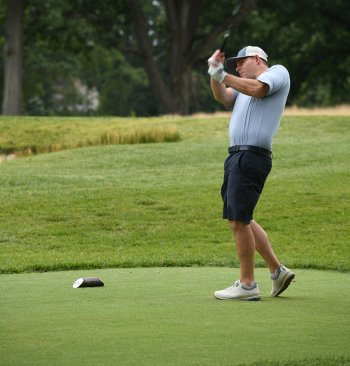 After last year's virtual Golf Classic, Children's Aid returned for 18 holes on the championship course at Baltusrol Golf Club in July for our 22nd Annual Golf Classic. We were met with a sunny and breezy day in Springfield, New Jersey, which was perfect for a round of golf with our long-time friends, trusted supporters, and valued corporate partners. It was a great opportunity to get together and raise critical funding and awareness for the programs and services of Children's Aid.
Our event raised a record-breaking $350,000 and welcomed 124 golfers who enjoyed the newly renovated – and according to some, now more challenging Lower Course – followed by a lively cocktail reception and stirring program. This year we were thrilled to have Golf Channel host and voice of the New York Giants Bob Papa join us as our auctioneer, inspiring our guests and encouraging them to give generously to support Children's Aid. Sharing the stage with him was our student speaker Myles Dawson, a graduating senior at The Beacon School and rising freshman at Howard University. Myles, a Children's Aid scholarship recipient, spoke about his experience with our youth programs at our Dunlevy Milbank Center. He shared how our programs opened doors for him and how he utilized these opportunities throughout his life. Myles moved the crowd and provided a great example of how Children's Aid is dedicated to supporting students academically, financially, and socio-emotionally.
The success of this year's Golf Classic was possible thanks to many of our supporters, including our extraordinary Golf Committee, whose dedication and leadership was invaluable as we made a return to an in-person event. We are grateful for our generous co-chairs Mark Allen and Russel Hamilton and committee members Scott Alfieri, Christopher Brady, Clint Factor, Brad Gruby, Jon Harrington, Andrew Molloy, and Stephen Powers. We would not have had such a successful event without each and every one of them.
Children's Aid also extends a sincere thanks to all of our sponsors and foursome supporters, especially our Presenting Sponsor and long-time partner Accenture, our Champion Sponsors Jon and Janet Harrington and Transwestern Real Estate, our Hospitality Sponsor Schiff Hardin, our Classic Sponsors Hilton Capitol Management and Glenn and Marcie Yarnis, and our Straightest Drive Contest Sponsor Aston Martin. We also want to give a special thank you to our generous hosts Jon and Janet Harrington and Baltusrol Golf Club; without them, this exciting event would not have been possible.
Lastly, we want to thank our in-kind donors who contributed to our live and silent auctions: Adrienne Landau, Scott Alfieri, Michael Aram, Baltusrol Golf Club, Bistro Seven Three, Bradford Portraits, Callaway Golf, Chris Coates, Cote Korean Steakhouse, Warren Dodge, Face Read Me LLC, Clint Factor, Brad Gruby, Sebastian Guth, Russel Hamilton, Jon and Janet Harrington, JT's Confections, Graham Hone, Beth Leventhal, Lizzie Fortunato, Lo & Sons, New York Football Giants, New York Knicks, New York Rangers, Nunbelievable, PhoneSoap, Ralph Lauren, Lauren Razook Roth and John Roth, Amy and Charlie Scharf, Brad Silver, Smathers & Branson, Suzanne Vega Management, USGA, and Vitamix.
Additionally, a hearty congratulations goes out to our contest and tournament winners:
Closest to the Pin Hole #4 Winner: Mike Haberman

Closest to the Pin Hole #9 Winner: Graham Hone

Closest to the Pin Hole #12 Winner: Mark Allen

Closest to the Pin Hole #16 Winner: Afrim Berisha

4th Place Net Winners: Mark Allen, Bob Fassett, Ashim Gulati, Dennis Newman

3rd Place Net Winners: Brad Bailey, Howard Genderson, Brian Kaplow, Timothy Moore

2nd Place Net Winners: Tom Frooman, Josh Hazen, Bill Jones, Todd Schneider

1st Place Net Winners: Russel Hamilton, Pete Hannigan, Graham Hone, Bob Persico

1st Place Gross Winners: Patrick Heeg, Paul Mancuso, Kerrill O'Mahony, Richard Stewart

Aston Martin's Straightest Drive Contest Winner: Mike Pope
Thank you, once again, to all who have supported Children's Aid and our 22nd Annual Golf Classic. We look forward to seeing you next year on May 9, 2022!