Children's Aid returned to the championship greens at Baltusrol Golf Club in Springfield, New Jersey, on last week for our 23rd Annual Golf Classic. With clear blue skies and occasional winds, we were joined by long-time friends, valued supporters, and dedicated corporate partners for a memorable day on the links.
This year we welcomed yet another sold-out crowd of 120 golfers and raised more than $358,000 (and counting!) for our essential programs and services.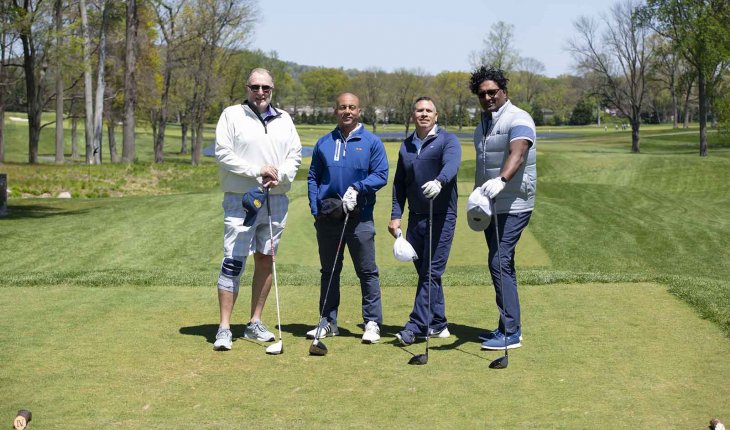 Two years out from its 2020 renovation, the Lower Course's pristinely manicured greens and fairways continued to awe and challenge all who roamed the course, providing an excellent opportunity to showcase skill.
Following play, our golfers enjoyed a cocktail reception where they heard from Sandra Escamilla, Executive Vice President of Children's Aid, and Bruce Beck, the Emmy-award-winning lead sports anchor at NBC Channel 4. As this year's auctioneer, Bruce enthusiastically engaged with guests, motivating them to participate and generously support Children's Aid.
Afterward, guests heard from this year's featured student speaker Adams Guerrero, a New York City EMT and Children's Aid scholarship recipient, who recounted his experience with Hope Leadership Academy. Adams began attending Hope in high school and now gives back as a volunteer. He shared how participating in Children's Aid programs was the best decision of his life and how the relationships he made and opportunities he was given through have shaped who he is today.
"There were weeks when I spent five days or more with Children's Aid," he said, "and I know the relationships that I built with friends and mentors will last a lifetime."
Adams' powerful words and his impressive, outward-focused next steps to serve his country as a member of the armed forces sparked a program-stopping standing ovation. It was yet another illustration of the meaningful and far-reaching impact of Children's Aid's commitment to helping young people learn, grow, and lead.
While our success can be attributed to many, we wish to give a heartfelt thanks to our host committee. Thank you to our generous Co-Chairs Mark Allen and Russel Hamilton and Committee members Scott Alfieri, Christopher Brady, Clint Factor, Brad Gruby, Jon Harrington, Andrew Molloy, and Brad Silver. The committee's leadership and commitment are what drive the success of this event each year. Children's Aid's longstanding partners at the Garden of Dreams also played a pivotal role in the program's success.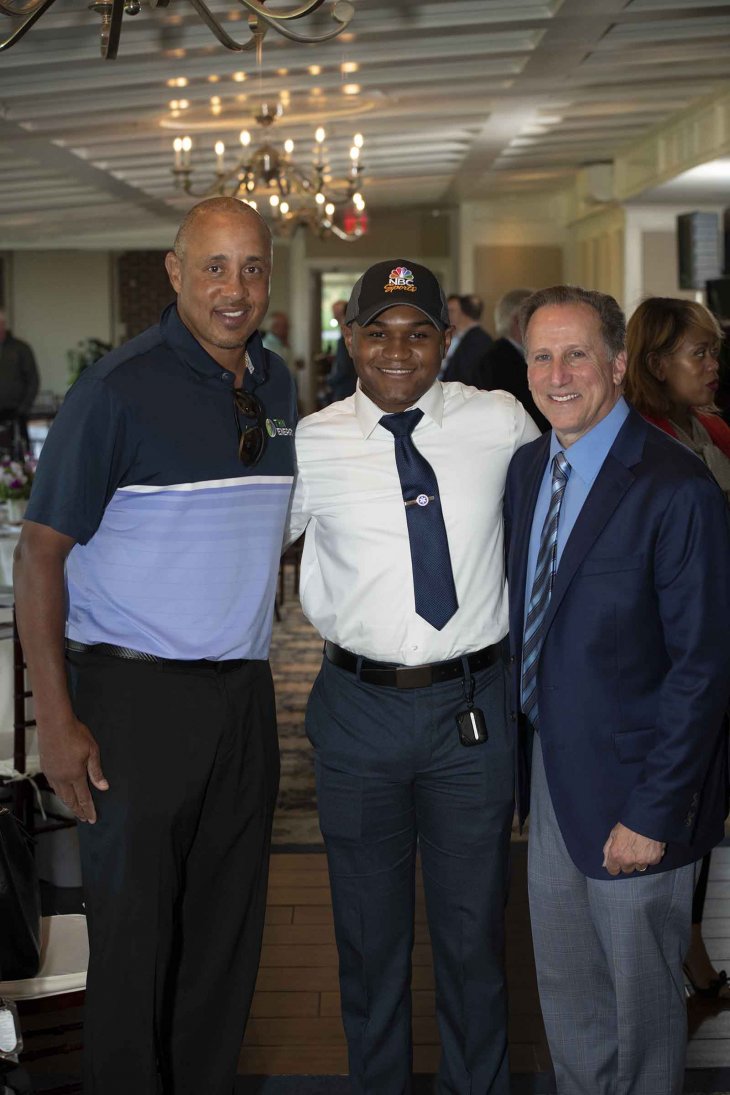 "It was important for me to be here on behalf of the Garden of Dreams Foundation. As a board member for GDF supporting those partners closest to us is what helps drives the biggest impact," said John Starks. "To know that my support helps Children's Aid change the lives of young ones and their families brings me joy. Very excited to have been here!"
Children's Aid also extends a sincere thanks to all of our sponsors and foursome supporters, especially our Presenting Sponsor and long-time partner Accenture; our Hospitality Sponsors ArentFox Schiff and High Point Wealth Management; our Classic Sponsors Fidelity National Title, Hilton Capital Management, and Glenn and Marcie Yarnis; and our Straightest Drive Contest Sponsor, Aston Martin Summit. We also want to extend our deepest thanks to our generous member hosts Jon and Janet Harrington who make our participation at Baltusrol Golf Club possible.
Additionally, we want to thank our auction sponsors who gave generous in-kind donations to our live and silent auctions: Adrienne Landau, Scott Alfieri, W. Mark Allen, Baltusrol Golf Club, Beam Suntory, Bistro Seven Three, Brad Gruby, Bradford Renaissance Portraits, The BroBasket, Callaway, Nicholas De Martini, Clint Factor, Dixon Golf, Warren Dodge, Dorney Park & Wildwater Kingdom, Jacki Easlick, Fogo de Chão, Russel Hamilton, Jon and Janet Harrington, JT's Confections, Beth and Ira Leventhal, Lo & Sons, Mutual of Omaha, New York City Football Club, New York Football Giants, New York Mets, New York Rangers, New York Red Bulls, Jill and Brian Olson, Providence Bar & Kitchen, Lauren Razook Roth and John Roth, Amy and Charlie Scharf, Brad I. Silver, Smathers & Branson, SoJo Spa Club, Soyulla Artists, Jake Sperling, STOMP, Vitamix, Andrea Wahlquist Brown and Alvin Brown, and Suzanne Waltman and Martin Friedman.
Lastly, congratulations to this year's contest and tournament winners:
Closest to the Pin Hole No. 4 Winner: Arjun Bedi

Closest to the Pin Hole No. 9 Winner: John Stuart

Closest to the Pin Hole No. 12 Winner: Mark Sheeleigh

Closest to the Pin Hole No. 16 Winner: Srikant Bindiganavile

4th Place Net Winners: Doug Amann, James Crowley, Sze Wing Lee, Craig Robertson

3rd Place Net Winners: Brad Blaine, Mike Deo, John Stewart, Todd Typrowicz

2nd Place Net Winners: David Chiang, Jay Dunn, David Mulle, Jordan Stein

1st Place Net Winners: Jordan Casella, Brad Dubeck, Paul Mackey, Betsy Marshall

1st Place Gross Winners: John Ballbach, Michael Brown, John Cowles, James Donnelly

Aston Martin Summit's Straightest Drive Contest Winner: John Konawalik

Greenbrier Raffle Winner: Farrell Simon
Many thanks, once again, to all who have supported Children's Aid and our 23rd Annual Golf Classic. Make sure to save our tentative date for the next Golf Classic: May 8, 2023!