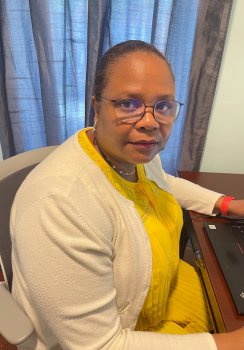 Karen Nation knows firsthand the benefits of having access to a caring adult and safe home during times of crisis.
She and her two brothers were adopted by their aunt after their parents died at a young age. Karen moved from her parents' 33-acre farm in St. Elizabeth, Jamaica, to a three-bedroom apartment in New York.
She went to private schools, graduated from college, and started a successful career. After her son graduated from college, Karen decided she wanted to give back and provide a stable environment for young people.
"I was adopted by kinship, and I've always wanted to do it," she said. "It was inspired by the fact that my family took really good care of me. [My aunt] put us through college. She did everything right by us, and we've had a great relationship."
Karen still remembers how nervous and scared she was to move to a new country and to live in a home with family members she did not know well. This experience allowed her to overcome similar challenges when welcoming teenagers into her Bronx home.
"When you help kids, those are the issues you have to overcome," she said. "You have to make them feel welcome and make them feel like they can talk to you about anything. We have that open relationship. I don't judge them."
Karen has fostered 13 teenagers in the last four years, guiding them through school, birthdays, and other life events. One child, whom she began fostering at 13 years old, is now a 16-year-old honor roll student.
"He was struggling emotionally when he first came," she said. "He would disappear. He wouldn't want to come home. But now he's looking forward to going to college."
Karen stresses the importance of education to every teenager in her care. She understands the power that education has to change the trajectory of a person's life.
"What an education does is break the cycle of poverty, break the cycle of crime," she said. "You have the opportunity to get a job. When you become a parent, you want your kids to do better than you. For me, the most important thing is for you to get an education."
When she faces challenging moments, Karen takes inspiration from the relationship she has with her son, who is a counselor at a therapeutic school in New York City.
"There's challenges dealing with your own kids. We work through it. It's the same with any other child," she said. "It doesn't have to be biological family, it could just be the person who takes care of you. You become family."
Karen also maintains relationships with the families of the children she fosters. She recently co-hosted a birthday party for a teenager with the help of his grandmother. She credits the youth she fosters for bursting the "bubble" she was previously living in.
"I grew up in a middle-class family. I had access to a good education. I had access to great jobs," she said. "They just let me open my eyes to realize what's happening outside of my world. The rewards are just great. As adults, we all want to help people. When you help kids achieve their goals – it's just this great feeling."
*****
Diana Ramos began fostering children 30 years ago as a kinship foster parent for her nieces and nephews.
When she was 30 years old and had "an empty nest," she decided to become a foster parent for children in her community in the Bronx.
Diana has welcomed countless young people into her home since the early 1990s, each with their own distinct personalities and needs. Some stay for a few months, while other teens stay with Diana for several years.
"You get different types of kids, different types of personalities," she said. "The challenge is to win them over, to make them feel comfortable and feel like they have somebody there willing to help them. A lot of them are afraid to care about people."
When a child first enters Diana's home, she asks them what they need – items such as clothes and school supplies. She'll show them around her kitchen to let them know they can grab whatever they want out of the fridge or pantry.
"I like to take the child everywhere I go so I can show them the neighborhood and introduce them to people where I live," she said. "I make them feel comfortable."
A foster parent leader for Children's Aid, Diana has also shared her expertise with other current and prospective foster parents. They call her when they need advice on how to navigate the complexities of caring for youth in foster care.
"They call me for advice or when they get frustrated and tired," she said. "I tell them, 'You need to take it one day at time. Do what you can today, then tomorrow, then the next day. That's the best way.'"
Many young people have passed through Diana's home, and some have moved into their own apartments or gone to college or law school. As the adult, Diana strives to teach the children she fosters, but she learns from them as well.
"Not only do I like it because I want to give back, but I learn from them as well," she said. "They teach you the new trends, music, the new slang. They teach you how to be down to earth. Some foster parents are so strict. They don't know how to communicate with the teens. They need that [communication]. It's very important for them.