Elizabeth Thompson did not hesitate when it came to fostering six of her grandchildren until they could be reunited with her daughter. As their maternal grandmother, she knew that she could provide them with a stable environment that wouldn't require them to change schools. She also knew that if she didn't, her grandchildren would be placed in separate foster homes.
"I couldn't possibly see them all split up into the system," she said.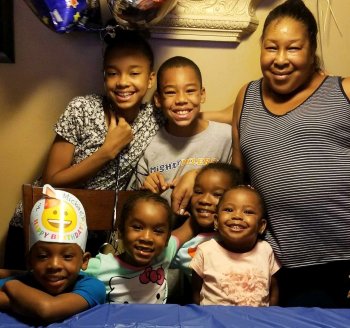 Nearly 500,000 children and youth in the United States are in the foster care system. As National Foster Care Month comes to a close, we at Children's Aid want to celebrate the many incredible people who have opened their hearts and homes to children and youth in foster care—incredible people like Ms. Thompson.
Into the second year of their kinship foster care arrangement, after it became clear that her daughter would not be able to take care of the children on her own, Ms. Thompson started considering a more permanent arrangement for her family. Acutely sensitive to her grandchildren's feelings, the matriarch sat each of them down individually and discussed her plans to adopt them. They all reassured their grandmother that they agreed with her decision. So the family took a bus, and the train, and the ferry to Staten Island where they finalized their adoption.
Ms. Thompson is a cancer survivor, and has she fought past this obstacle to take care of her family. Routines have been helpful. The children, ages 2-12, know to come home, do their homework, eat dinner, and prepare for bed. Taco Tuesdays, movie nights, and Sunday dinners also provide tons of opportunities for family bonding. And they keep a big calendar in the house that details who needs to be where during the week.
Ms. Thompson's two other adult children have also stepped in to help raise their nieces and nephews. They alternate between taking the kids to school and picking them up. And on the days when their grandmother feels a little tired, everyone from the babies to the teenagers come together to support each other. She admits that she gets emotional when she sees all of her grandchildren together in one room. That picture has been restorative to her health.
"Me getting them helped me get a little stronger," she said.
Ms. Thompson has used her strength, one defined by patience and unconditional love, to nurture each of her grandchildren's individual interests, which range from dancing and modeling to cooking and architecture. In doing so, she knows she is providing them with the love and support that will help her grandchildren succeed.
"I'm making sure they get to where they need to be," she said.