In honor of Women's History Month, Children's Aid is spotlighting the impact of several women leaders at our agency. The series begins with President & CEO Phoebe Boyer.
Phoebe Boyer was born in New Haven, Connecticut, and graduated high school there. That journey, however, did not follow a straight line. Phoebe's family moved to Chicago when she was in kindergarten and remained there until she was in third grade. They then moved to Washington D.C. when she was in fourth grade. A return to Chicago meant another school for fifth grade. The family finally returned to settle in New Haven when Phoebe was in middle school.
"I learned how to enter a new environment," she said. But always being the new kid could be disruptive as well. Having a close-knit family helped a great deal. Phoebe's parents, informed by their Quaker faith, raised her and her sister, Annie, to value hard work and service. In a family with three women, there was no choice but for Phoebe and Annie to assume stereotypical male responsibilities around the house.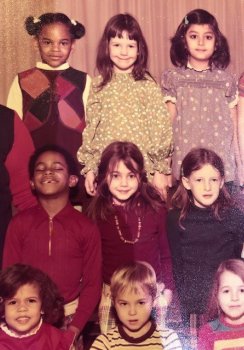 "If something had to be done, in our house it was expected you would do it," she said. "So, I was up ladders, cleaning out gutters because that had to be done." A summer job when she was 13 years old found her digging a drainage ditch. "I didn't think there were things I shouldn't do because I was a girl," she said.
The commitment to public service soon followed. When she was in 7th grade, she found out that some of her peers didn't have pencils and notebooks for schools. So, she started her first fundraising drive. Those efforts have continued until today.
At the same time, her can-do attitude was challenged – unsuccessfully – when the head of the math department questioned her desire to enroll in calculus, asking: "What's a pretty little girl like you need with calculus?"
She took the class anyway. And aced it.
Experiences of sexism still resonate with Phoebe, even as she has become the first female CEO in Children's Aid's history. It has given her the motivation and perspective to help advance an agency-wide agenda to create a more diverse, inclusive, and anti-racist organization.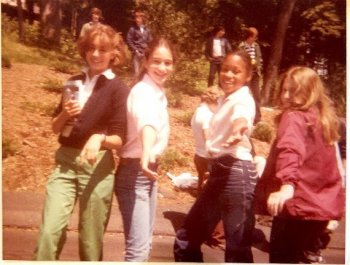 "It's about having multiple backgrounds and perspectives and talent," she said, "and engaging in those differences and those commonalities to create a workplace where everybody can thrive."
In reflecting on women's history month, Phoebe has found inspiration in her own mother's story. Phoebe Boyer Sr. was told that women should not go to law school – by none other than the dean of the law school. She refused to accept that. When Phoebe's family moved to Chicago, her mother started law school. She went on to practice family law for decades. "She was and is a powerful advocate for kids, families, and communities," Phoebe said.
She carries her parents' work ethic and personal ethics into her work, where she is a role model for the next generations of female leaders. Phoebe's journey may not have followed a straight line, but she continues to remain close to home.
*Photo 1: 2nd grade class, Phoebe (c) already looking like a CEO
*Photo 2: Back in New Haven, Phoebe (l) in 7th grade