On November 1 in Albany, leaders from advocacy, academic research, human services, and public policy organizations gathered to discuss the state of the child welfare system in New York. The summit, which was hosted by Children's Aid's Foster Youth Success Alliance (FYSA) and partners, offered attendees fresh insights from researchers and firsthand perspectives from those involved in the system.
The summit offered a unique opportunity for key stakeholders to align on policy priorities for the upcoming 2024 New York State legislative session. Here are three takeaways from an engaging and enlightening event: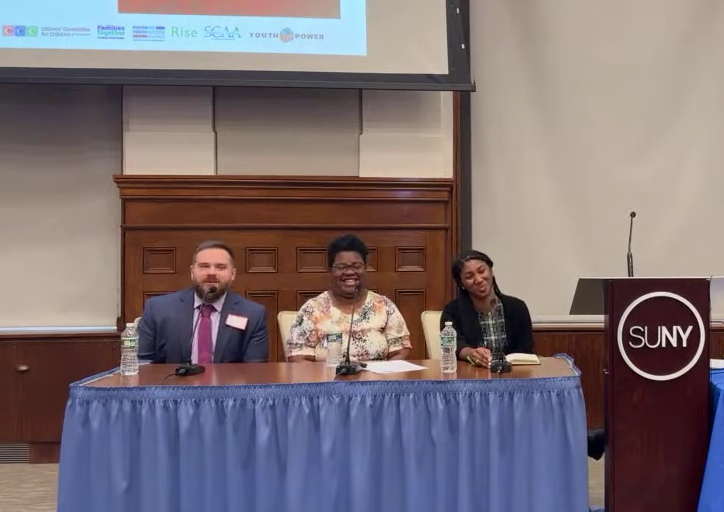 A large-scale system needs large-scale solutions
In 2021, the most recent year that data were available, New York received 145,684 reports of potential abuse or neglect. The state and its partner agencies, like Children's Aid, provided 75,088 children and 37,516 families with preventive services. Of those reports and referrals, a total of 14,358 were placed into foster care. And racial disparities are stark: Black children in New York are five times more likely than white children, and Hispanic children are twice as likely as white children, to be placed into foster care.
Two immediate reforms could help significantly reduce the number of children and families who enter the system unnecessarily. The first is to change the way that reports of abuse or neglect can be made to the New York State Central Registry. Right now, anyone can make a report without identifying themselves in any way. But advocates suggest that those calls should be confidential, not anonymous. This would help to reduce the number of false and potentially malicious reports while still preserving the ability for concerned parties to provide the state with necessary information.
The second change is to pass the Family Miranda Rights. Advocacy organizations should compile resources and guidance on how to implement this policy, which requires that families be notified of their rights when they first come in contact with the system. When families are aware of their rights, they may be able to take concrete steps to avoid the removal of their children or to increase the possibility of a speedy reunification.
Reforming the system requires a holistic approach
There is a well-documented correlation between poverty and placement in foster care. Reducing the number of children and families who enter the child welfare system requires reducing the number of children and families in poverty. Unfortunately, a promising federal solution – the expanded child tax credit during the pandemic – was not renewed. But there are still solutions at the state level.
In the short term, elected officials can invest in communities through initiatives like the Empire State Child Tax Credit. They can provide a guaranteed income for young people exiting care and for families involved in the system. And they can fully fund the Foster Youth College Success Initiative, which aims to help current and former youth in care to achieve their post-secondary educational goals. All of this helps erode the generational cycles of poverty that impact families who are involved in the system.
As our executive vice president Georgia Boothe said during her panel: "We have to get the judgment and the blame out of our discussions and make it easier for families who need help to seek it. We've demonized poor people with our legislative language and our policing. We have to make sure that people don't need to be perfect to exit the system."
Shared power, not shared perspectives
Among the most moving parts of the summit were the stories shared by youth and families who had firsthand experiences in the foster care system. Shalonda Curtis-Hackett shared her story of having her children removed from her home – and the barriers she faced to getting them back. "It's the most dehumanizing experience you can be a part of," she said.
Nittaya Casey and LaTroya Lovell, former youth in care, shared their perspectives of having been placed in the system and of aging out. Nittaya, who was also a FYSA advocate, shared about her experiences pushing for better outcomes for her peer youth.
All of these speakers emphasized the need for youth and families to be empowered to participate meaningfully in the policy solutions for the child welfare system. It is not enough, they said, merely for their stories to be heard. They need a seat at the table in order to make sure that those who come after them have better, safer, and healthier experiences.