Natasha Delisle and Sophia Beckford have more than two decades of combined experience working for Children's Aid.
They both worked their way up at the Bronx Early Childhood Center, where they teach the 2-year-old room, otherwise known as the Blue Room. Natasha, the lead teacher, knew at a young age that she would pursue teaching.
Her family moved to Brooklyn from Trinidad when she was 4 years old. At P.S. 181 in East Flatbush, she met Ms. Cushman, her second-grade science teacher. Ms. Cushman's style of teaching would influence Natasha for years.
"She was a very calm, very detailed, soft-spoken woman," she said. "I came from Trinidad so everything was very new to me. I didn't grasp certain curriculum concepts. There was an influx of West Indian immigrants, and she catered to some of our doubts and fears that we had coming to a foreign land."
Ms. Cushman's focus on social-emotional learning got Natasha through a difficult period.
"I definitely remember the warm hugs when my best friend said she didn't want to be my best friend anymore," she said. "Her hugs and her touch really soothed me throughout the whole school year."
Natasha incorporates the concepts she learned from Ms. Cushman into her teaching. Her close relationship with her students and dedication to the curriculum allowed her students to make substantial gains even during virtual learning.
"I got to see more vocabulary from my children," she said. "I was shocked to see how much virtual classes still played a part in learning. I noticed that if you kept yourself involved and had a concrete curriculum, you got the same focus from the students."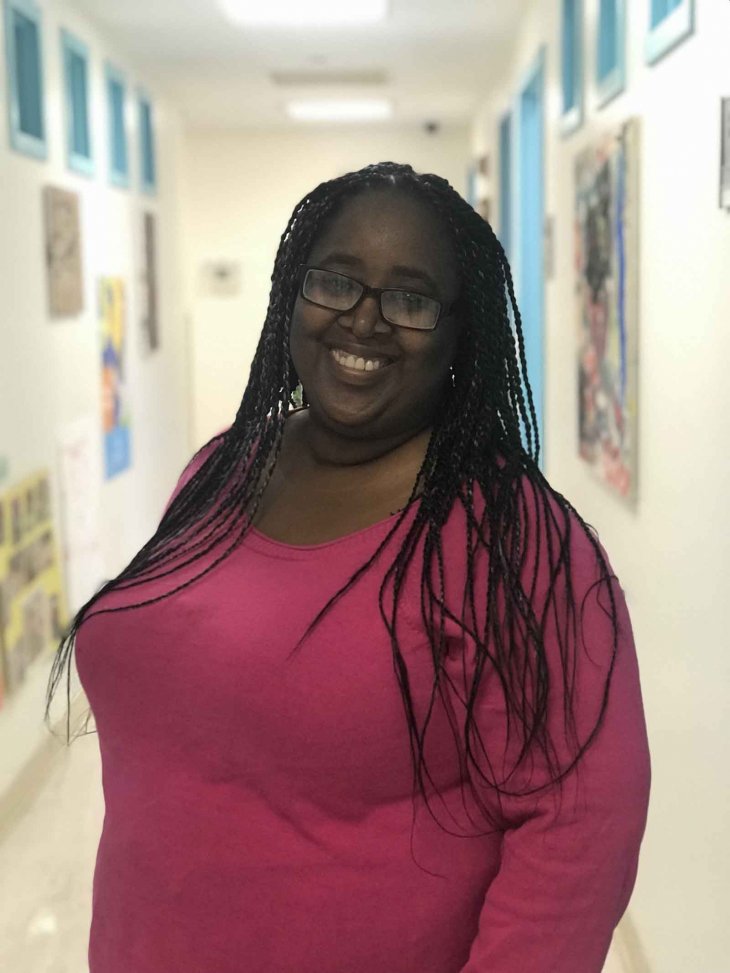 Sophia, the assistant teacher for the Blue Room, initially set out to become a social worker. But after a social work internship in college, she realized it was not the career for her. A friend suggested that she work at the Bronx Early Childhood Center and that's where she fell in love with teaching.
"It just stuck, and I thought, 'I should be doing this instead,'" she said. "When I came in the morning the kids would hug me. They were just so loving and happy to see me."
She began working with children with special needs and helped parents navigate the special education referral process. This experience left Sophia with a knack for identifying who in the classroom may need extra help, according to Natasha.
Three years ago, Sophia's son was diagnosed with autism. Even before she became a mother, Sophia knew how important it was for parents to advocate for an equitable education.
"Even before my son was diagnosed,," she said, "I would always tell the mom, 'Do not say no if they want to test them or get them speech or physical therapy. In the long run, it will benefit the child.'"
Sophia and Natasha have different strengths, which helps create a successful classroom. Sophia adds levity to the class when needed. Natasha is artistic and can whip up decorations and informative bulletin boards for the room.
"Our day is never dull in that classroom," Sophia said. "We're always laughing. She's a very good head teacher. Where I'm lacking, she picks up; and where she is lacking, I pick up. We complement each other."
The most rewarding aspect of the work, Sophia said, is the recognition they receive from parents who appreciate the progress their children make throughout the year.
"You have to be cut out to teach," she said. "It can be very challenging. It gives me great pleasure that they acknowledge that we're not a babysitter. We're actually working with their kids to help prepare them for kindergarten."