In the early months of the pandemic, many of our families feared leaving their homes. And if they did, they were often greeted by grocery store lines that wrapped around blocks, and by empty shelves inside. Our staff, who often live in the communities they serve, recognized this problem – and mobilized in an unprecedented way.
From March 2020 through the end of 2021 – during the height of the pandemic in New York City – we delivered more than 200,000 meals to our families. During those tense and trying times, we were distributing an average of more than 300 meals a day.
"This was a huge effort that wouldn't have been possible without committed staff and incredible partnerships," said Taisy Conk, the director of food and nutrition programs at Children's Aid. "From sourcing to funding to delivery, we coordinated with our partners to provide food to our communities."
Initially, Children's Aid utilized the Child and Adult Care Food Program, a federally funded program administered through the New York State Department that we have participated in for several years. Despite the uncertain nature of the virus in the early days of the pandemic, our cooks remained on site – even during shelter-in-place lockdowns. Youths, who sometimes get a majority of their daily calories from free breakfast and lunch and schools, were able to remain fed. And their families were able to access the food as well.
"When the pandemic first happened, people thought it would only last a couple of weeks," said Kent Williamson, our Go!Healthy meals manager. "But we knew that people were going to need food. When the state said we could make grab-and-go meals, we went to work right away."
At the height of the pandemic, our food distribution sites were serving hundreds of people per day. "Our cooks could have stayed home and still received their paychecks, but they didn't want to do that," Williamson said. "They didn't take breaks or vacations. They worked to make sure that families were fed."
We also continued and expanded our food box program, which is part of our Go!Healthy initiative. Before the pandemic, food boxes provided fresh and nutritious foods to our families at cost. During the pandemic, the food boxes were moved to a "pay what you can" model. "It didn't feel right to ask people who had just lost their jobs to pay for their basic needs," said Beth Bainbridge, who runs Go!Healthy's SNAP-Ed project. "People who needed support were able to find it with us."
Go!Healthy began satellite distributions to get food boxes from where they are packed to where people are, a model that continues to this day. The food box program increased tenfold, from 3,000 food boxes/year to 30,000 meals/year. And as with our cooks, our food box staff continued to show up for our families week in and week out. Our Go!Healthy team partnered in new ways with our divisions of Children's Aid – including Early Childhood, School Age, and facilities – to ensure that our families had the food that they needed during those difficult early days.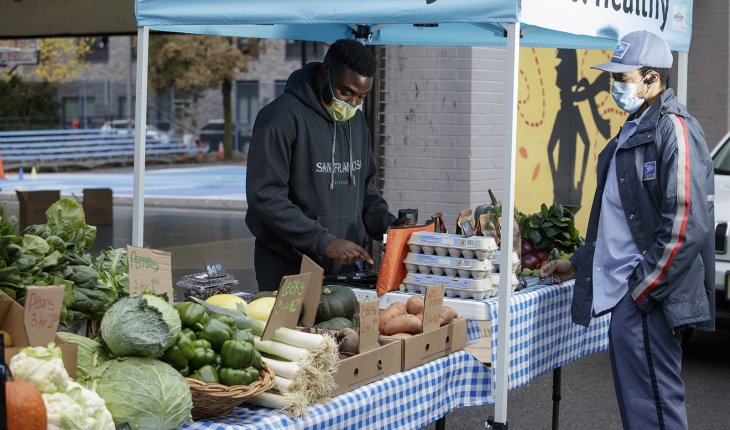 As the months wore on, we recruited partners to deliver food at an even greater volume than we could on our own. Partnering with West Side Campaign Against Hunger, our community centers, community schools, and Early Childhood sites distributed additional food boxes that included fresh foods from local farmers who were experiencing their own challenges during the pandemic. The boxes supplied a household of four with enough food for four days, and they were curated to provide a balance of healthy options based on U.S. Department of Agriculture's MyPlate standards.
Through a partnership with the West Side Campaign Against Hunger, we set up additional monthly distribution sites at all nine of our early childhood centers and at five distribution centers in the Bronx.
"The essence of our food box work was always local, seasonal and sustainable food," Taisy said. "We were trying to bring great food to underserved communities who don't always have access to farmers' markets. With support from our funders, we have been able to make good food more financially accessible and as a result we have seen more people try food box and become regular participants. This program has been a valuable part of the fight against food insecurity, which has been especially important in the past two years."
We also distributed tens of thousands of hot meals to families during these months. Through a partnership with Rethink, we helped local restaurants and food trucks stay in business by paying for meals that we then distributed to our families.
Through all of these programs, our aim was to deliver not just food – but delicious, healthy and culturally appropriate food. We continued our efforts in youth and adult education, with virtual cooking classes and community groups that shared recipe ideas and successes.
This year, the Go!Healthy team is continuing to evaluate the many programs as they map out a sustainable program going forward. Although many people have begun to move past the pandemic, food insecurity continues to be a critical problem in New York City.
"It takes a lot of strategy and labor to deliver fresh food to people," Taisy said. "There are new challenges with sourcing, staffing and distribution on top of our long-term work to build a community food system. Now in 2022, our staff too often have to change distribution plans on a dime to accommodate shortages or delivery issues. It's a huge enterprise, but it's one we're proud to be a part of. Our program is just one part of our deep work within our communities. We don't just give food out and leave. We're here for the long haul."