Elyse Alvarado-Rosado (pictured above) was in upstate New York last March when she first heard the news. A teacher at Taft Early Childhood Center and the mother of four children, Elyse learned that her own kids' schools were closing because of the coronavirus. Moments later, her own school administrator called with the news that Taft would be transitioning to remote learning, too.
Elyse extended that family visit to her mother's house from a weekend to a long-term stay. "At first, we thought it was only going to be two weeks," she said. "Then two weeks turned into the rest of the year."
Elyse remembers the first months of the pandemic as an almost impossible balancing act. She had to figure out how to conduct her pre-K classes online, how to help her own kids adjust to remote learning, and how she and her husband would manage their household responsibilities with both of them now working remotely.
"All we could do was tag-team everything," Elyse said. "My husband would be helping one child, and I'd help another child. It was just one thing after another, and we did our best to keep up."
Soon, Elyse and her family settled into a rhythm, and so too did her classroom. All across the country, and all across our communities, teachers like Elyse have worked overtime to mitigate any lasting learning losses from this devastating global health crisis. They have risked their own health and safety to ensure that their students could still succeed and thrive.
For early childhood teachers like Elyse, the first challenge was to help students stay focused on their screens. Kaitlyn O'Connor, who works with 2-year-olds at Richmond Early Learning Center, quickly learned that engaging other senses besides sight was key.
"Music kept their attention more than anything," she said. "I noticed right away that they loved listening to music, and so we started watching music videos and singing songs together."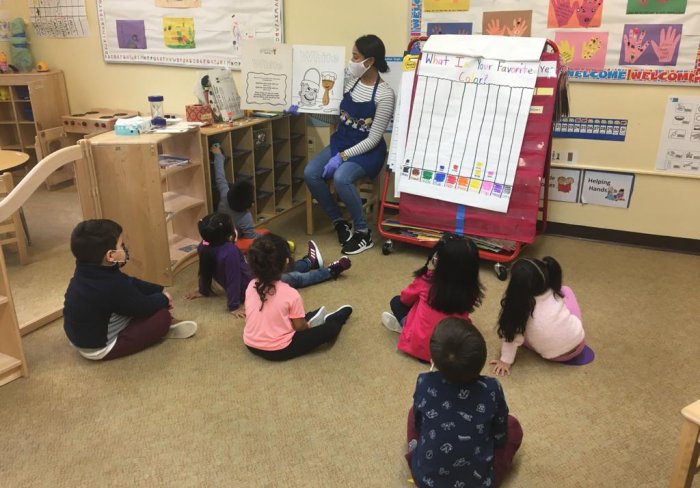 When P.S. 152 in Washington Heights shut down, Chelsea Mojica (pictured left) sent her pre-K students home with just about anything from the classroom that wasn't bolted down. It started with basic supplies like pencils and paper, but moved up to blocks and math counters and beyond.
"There was a point where we were giving away chairs," she said. "Some didn't have a chair at home to sit on. Some of them would be laying down on the bed, and having a chair helped them distinguish between school time and relaxing time."
All of our educators recognized the role that a stable classroom has in times of instability.
"Even in a normal year, school is sometimes the most stable thing in a child's life," Chelsea said. "It was hard when schools were closed or the schedules were inconsistent or teachers had to be on a rotation. That affects the children. In spite of all that, we still strove to be that sense of stability in their lives. School is supposed to be a safe haven."
Our early learning centers allowed students the option to return to the classroom last fall, and most have come back either full time or in a hybrid model. Our teachers bravely returned to work in the days before a vaccine was available. For many of them, it was worth it the moment the kids stepped foot in the classroom.
"They were basically breaking down the door to get back in," Kaitlyn said. "School is something to look forward to now. They love being around their friends, and they have been great about following new rules like wearing masks."
Last week, Chelsea was teaching her kids about the theme of hospitals through role play. She played a mother who was bringing in her sick "baby" to the hospital to be treated. The exercise was a reminder to her of how much the coronavirus has shaped her students' thinking.
"We think kids aren't always in touch, but they pick up on everything," she said. "They know why we're wearing masks, and during this activity, they talked about the coronavirus. They just want everyone to be happy and healthy."
Now that teachers have had the chance to be vaccinated, school is feeling safer for them. By next fall, they hope, classrooms across the country will be a lot more like they were before the pandemic began. For now, though, they continue to do their best for their students in less-than-ideal circumstances.
For Elyse, the last couple of months have been harder than the first couple of months of the pandemic. Her husband has returned to work in person, too, which means that they are now juggling daycare and babysitters with work schedules.
"There's a lot more sweat involved now then there was back then," she said. "But I'm grateful for how much support my school has given me and has given all of our teachers. There have been so many challenges this year, but we have made it through. And I think the kids understand in a new way just how much they matter to all of us."