Taryn was excited when she first learned that she would be playing with Legos in her after-school program at the Dunlevy Milbank Center. Her grandmother introduced her to the building blocks when she was a few years younger. So when given the choice of a role in the program, the 11-year-old knew right away she wanted to build.
Shelby, 12, was more intrigued in working behind a laptop. She was a newcomer to programming, but her talents were clearly demonstrated in writing code that would bring Taryn's construction to life. Over the last seven months, Shelby, Taryn, and four other girls combined their researching, programming, and constructing talents to create a robot that could push, grab, and pull.
While girls and women are largely underrepresented in Science, Technology, Engineering, and Mathematics (STEM) classes and professions, at Milbank they form the majority. Under the guidance of the center's technology director, Deja Flynn, the all-girl junior engineering team became Milbotics. At its intersection was the community center in Harlem and an immeasurable result of its after-school enrichment program: kids aged 9-13 creating long-term connections to STEM.
"Once a week we all switched off," Shelby said of the program's structure. Deja had the girls rotate between the research and technical roles. It was a strategy that not only gave them a well-rounded experience, but also strengthened their problem-solving skills.
"There is really no training you could get more than just diving in and trying for yourself," said Deja.
And it is a strategy that holds true regardless of experience and expertise. The league's robot model had changed since Deja last worked on the project, but the instructor used every new obstacle she faced as a teaching moment for her girls. "They had no idea I was figuring it out along with them," she said.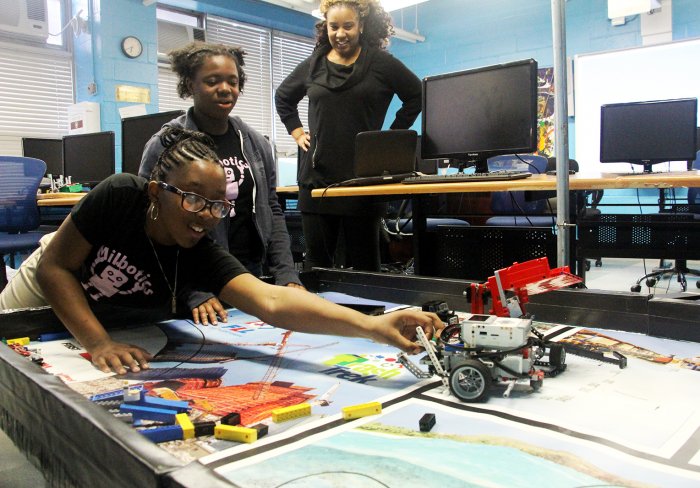 There were long hours and some disagreements over the course of the program, but the girls honed their engineering skills. Milbotics built three robots over the course of the program and tackled an up-cycling milk carton project at the community center. In the end, they successfully designed, built, and programmed a robot that performed all the necessary movements that would get them through the Trash Trek challenge during the FIRST Lego League Competitions.
Milbotics placed third in a qualifying round of the competition—a win that propelled them forward to the regional championships.
"There were so many people," Taryn said of the championships. Teams and supporters from across New York City packed the Jacob Javits Center.
The crowd alone would have been overwhelming, but because coaches were not allowed on the competition floor, Milbotics found that they had to tackle the robotics challenge on their own.
Their robot malfunctioned during the championships, but Shelby said she kept one of the league core values in mind. She found a reason to smile and enjoy the moment with her team.  "I just wanted to have fun," she said.
It didn't go unnoticed. Milbotics not only placed 27th out of more than 80 other teams, but they also took home an award for great demonstration of the FIRST Lego league Core Values. Their coach was more than proud of them.
"It was exciting to watch them grow over the past few months," said Deja. "I'm so happy I have a few more years to work with them and build on what we did this year."
The girls have also begun planning to top their accomplishments. In returning to the strategizing board, Taryn had one critical requirement for a future Milbotics project. The next robot they build must be a girl.