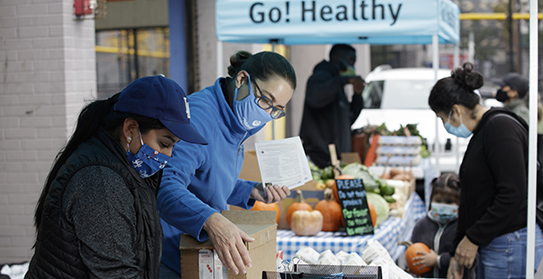 Spring is here, and after a most challenging year, we have many reasons to be hopeful. As families begin to receive child benefits from recent federal legislation, and as more American adults get fully vaccinated, reprieve from this pandemic is in sight. We are also seeing the rollback of policies, such as the public charge rule, that were harming the well-being of our children, youth, and families.
Although there are certainly bright spots to celebrate, the reality is that obstacles still remain. While some of our young people adapted and even thrived in remote school and other programming, many more struggled with screen fatigue or uneven access to remote learning. As we prepare for this summer, we will continue to meet the evolving needs of our kids and their families — including food, medical care, and mental health services. And we will design enriching, joyful summer programs that enable our young people to recover academically, socially, and emotionally from this devastating year. Summer will be a critically important opportunity to address pandemic learning loss and help kids prepare for a strong start to the school year.
We hope you enjoy the warmer days ahead, and thank you, as always, for being a valued member of the Children's Aid family, especially as we embark on the continued recovery effort ahead.
Sincerely,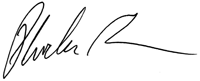 Phoebe C. Boyer
President and Chief Executive Officer
EXECUTIVE UPDATE
President and CEO Phoebe C. Boyer was included on City & State New York's "The 2021 Nonprofit Power 100" list, recognizing her leadership during COVID-19 and her contributions to New York City's school reopening plans.
THE PATH TO PROMISE
Nonprofit Director Reflects on Her Childhood Years
With Children's Aid
Jessica Damille calls herself the poster child for the Frederick Douglass Community Center.
Jessica Damille grew up in the Harlem area — where Children's Aid operates the Frederick Douglass Community Center — and spent her formative years in the center's various programs. Her parents enrolled her in the Head Start program and her mother soon after began working at the center as a cook.
"My parents emigrated from Haiti and simply did not have the means and awareness to provide me with the opportunities and exposure I received through Children's Aid," she said. "It is through Children's Aid that I received a great foundation for learning. I got academic support, opportunities to overcome stage fright, skills for enterprise, my first jobs, mentorship, and college scholarships."
The writing program at the center, taught by Trustee Emeritus Edgar Koerner, had a profound impact on Jessica's life. "Through his weekly sacrifice, I learned how to write when my words failed to adequately express my feelings — for school assignments, to chronicle world events, and to advocate for others," she said. "I spent all of high school in honors and AP English courses because Edgar helped me develop a passion for writing at a young age. Edgar created a very nurturing writing environment."
Through a college prep program at Children's Aid, Jessica went on a seven-day tour through seven states to visit 15 Historically Black Colleges and Universities. "It was on this trip, taken during my junior year in high school, that I discovered and fell in love with my alma mater, Howard University," she said.
While majoring in psychology and sociology, Jessica decided to obtain a certificate in nonprofit management. Her experience at Children's Aid had helped fuel a desire to make a meaningful difference in people's lives. She is currently the development director at Helping Haitian Angels, an organization that cares for orphaned and abandoned children in Haiti.
Jessica has an encyclopedic knowledge of those whom she met on her Children's Aid journey — teachers at her Head Start program, mentors from the Corporate Workplace program, counselors, and executive directors.
"There are so many people who have made my success possible," she said. "I'm 37 years old, and I never forget the profound impact that Children's Aid continues to have in my life."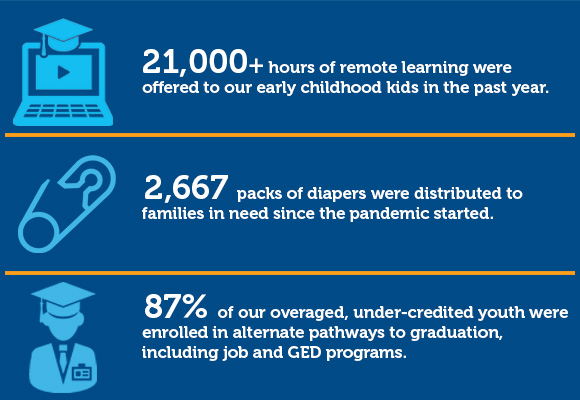 IMPACT
VIP Video Program Invaluable for Families With Young Children

Video Interaction Project Coach Sara Benitez.
Michelle* watches a video of herself playing with her baby. Video Interaction Project (VIP) Coach Sara Benitez watches along with her and provides positive feedback and suggestions to build upon Michelle's strengths.
"Am I giving my baby too much attention or spoiling her?" asks Michelle, who was participating in a VIP session during her baby's check-up at our Dunlevy Milbank Community Center's health clinic in Harlem.
Sara responds, "Your baby learns about the world from what you show her and tell her, and it isn't possible to spoil an infant. Talking, playing, and reading with her helps her brain grow, and the attention that you pay to her helps her feel secure so she can explore and learn."
VIP is led by NYU's Grossman School of Medicine and was started by pediatrician Alan Mendelsohn at NYC Health + Hospitals/Bellevue in 1999. Since then, VIP has expanded to 11 locations across three states, including our Dunlevy Milbank Community Center's health clinic and our Bronx Health Center and Foster Care Services. At every pediatric check-up from birth to age 5, parents and caregivers join a 25-minute VIP session where they receive a toy or book to keep and are recorded playing with their child. They then watch the video with their VIP Coach, who provides positive reinforcement about their strengths, discusses their goals, and shares tips about development.
During COVID-19, VIP went virtual so parents and caregivers could participate from home. "Parents have welcomed the opportunity to conduct sessions remotely — it felt like a relief to finally talk to another person," said Sara. Providing this program proved especially critical this year when children were not able to attend school or day care.
Post-pandemic, VIP plans to keep remote options available. While Sara says in-person is ideal, she wants to be flexible around what works best for the family. "For parents with several children or busy schedules to juggle," she said, "remote can sometimes be easier."
VIP is available in English and Spanish, and it is free thanks to City's First Readers (an initiative of the New York City Council), the Tiger Foundation, and the Marks Family Foundation. To learn more about VIP, visit their social media accounts @PlayReadVIP.
*Since this is a foster parent, we have changed her name for privacy and safety reasons.
YOUTH ACTIVATED
Our Community Schools Model Gains National Traction
A teacher from our Children's Aid College Prep Charter School, a community school in the South Bronx, helps students succeed in the classroom and beyond.
For more than 25 years, Children's Aid has operated our community schools model in partnership with the New York City Department of Education (DOE). We currently partner with 19 community schools in New York City, where we conduct needs assessments to uncover barriers preventing the student population from breaking the intergenerational cycle of poverty. After identifying the best intervention strategy, we then integrate a mixture of expanded learning programs; comprehensive physical, mental health, dental, and vision services; and family engagement initiatives into each school building. To help spread the model farther, our National Center for Community Schools partners with school districts across the country to replicate the strategy, which more than 5 million students have benefited from.
There is growing momentum around community schools. The American Rescue Plan names community schools as an allowable use of federal education stimulus funds to address learning loss and mental health concerns. Senators Kirsten Gillibrand, Chris Van Hollen, and Sherrod Brown have introduced an expansion to the Full-Service Community Schools grant initiative in the Senate, and a companion bill in the House of Representatives was introduced by Representative Mondaire Jones. On the research front, the Brookings Institution recently created a Task Force on Next Generation Community Schools, releasing a report that recognizes the success of community schools and makes recommendations on how the model can scale up and further address educational inequality.
Our Public Policy team advocates on all levels of government to protect and expand government funding for community schools. At the city level, we have been co-leading the campaign against the mayor's proposed cuts to the DOE's Community Schools Initiative. Due to this advocacy campaign, we saw a successful one-year restoration of the cuts to community schools for Fiscal Year 2021, but we are still fighting to restore them for Fiscal Year 2022. As members of the city, state, and national coalitions for community schools, the Policy team has been meeting with elected officials; testifying at state and city hearings; and leading virtual rallies and press conferences. They also put on a congressional briefing to inform new and existing federal representatives about community schools.
Children's Aid will continue this crucial advisory and advocacy work because we truly believe that the community schools strategy is an equitable and effective path forward for education and child poverty policy – and an effective way to recover from the COVID-19 crisis.
COMMITTED PARTNERS
When Times Get Tough, True Friends Come Through
A girl holds a holiday toy that she received from Wachtell Lipton.
In 2010, the prestigious New York City-based law firm Wachtell, Lipton, Rosen & Katz formed a partnership with Children's Aid and began supporting our summer programming and general operating expenses generously. In 2012, Children's Aid's young people and their families encountered a never before seen crisis in our city: Hurricane Sandy. Like a true friend, Wachtell Lipton was quick to provide critical aid to victims of the natural disaster in our programs. During COVID-19, that same unwavering commitment to help during the tough times shined through in an incredible way.
Throughout this pandemic, children and families have been struggling to access the very essentials that every person deserves — like food and winter coats — as well as the little, yet important things that bring joy to children during uncertain times.
To help meet these needs, Andrea Wahlquist, Esq., a partner at the firm and a Children's Aid board member, worked with other Wachtell Lipton staff to provide Children's Aid with a remarkable $545,000 gift. This will provide more than 10,000 emergency food baskets, helping youth like Milani, 17, from our Hope Leadership Academy in Harlem. "Finances have definitely been unpredictable for many families such as my own, and I am appreciative of the gesture to give my family, as well as others, access to healthy and nutritional food."
The gift also provided nearly 1,000 winter coats and accessories for families, helping to keep them warm during the cold months. And with so many children overwhelmed by this pandemic, Wachtell Lipton gave holiday gifts to the more than 4,000 children who would have otherwise gone without, spreading much needed holiday joy during these unsettling times.
Our Dunlevy Milbank Community Center's Director Casper Lassiter recounted one special story about one of the youths who attended the center in Harlem. "He is living in a shelter in Queens. While talking to him, I noticed that he only had on a sweatshirt. I asked him if he had a coat, and he said the sweatshirt was all he had, so I was able to give him a gift card to purchase a winter coat."
To date, Wachtell Lipton has provided nearly $3 million in support for our children, youth, and families — and whether we find ourselves in good times or the bad, we will always be able to rely on the dedication of our true friends at Wachtell Lipton.
PROGRAM UPDATE
Strengthening Families to Avoid Foster Care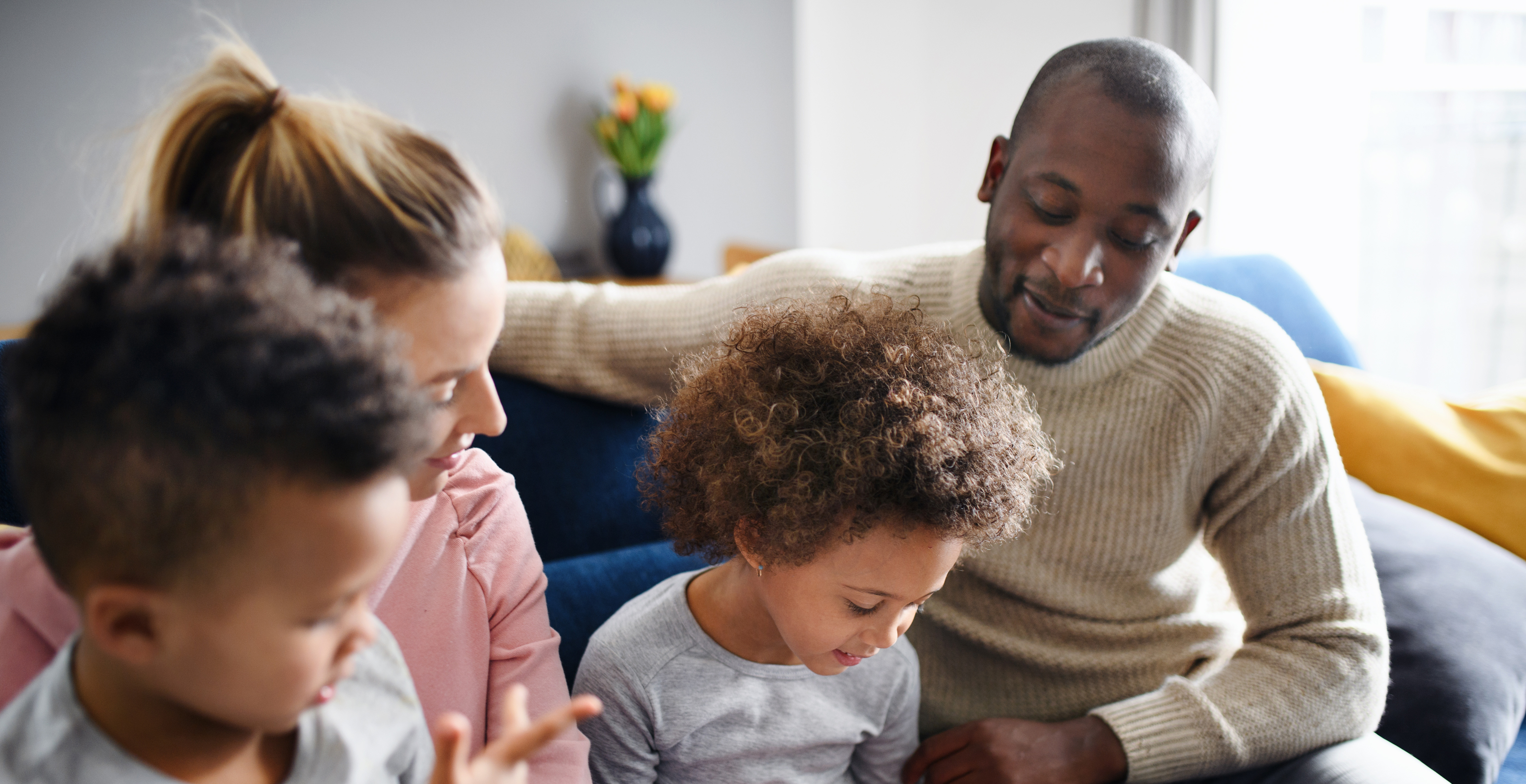 In a year of crises, the role of our Prevention Services work has been paramount. Prevention Services intervenes in families at risk for having children removed from the home. The goal is to strengthen the family unit and provide them with skills and resources to better meet life's challenges.
The pandemic has exacerbated many of the problems that lead to the placement of children in foster care: domestic and intimate partner violence, food insecurity and associated neglect, and substance abuse. Health safety protocols have made our work more challenging this year, but we have continued our commitment to keeping children and families safe.
This year has also offered us an opportunity to reflect on the patterns of injustice that exist in the child welfare system. We recognize that communities of color have been disproportionately affected by governmental family separation, and we have redoubled our efforts to ensure that children are able to remain at home in safe environments.
"Through Prevention Services, we work with entire families to ensure strong, stable households and spare children the lifelong trauma of family separation," President and CEO Phoebe C. Boyer said. "This past year, the need for these services became even more evident, as many families experienced incredible losses, unemployment, and food insecurity."
Through crisis counseling and family therapy programs, we continue to provide tools to parents and families to help them develop healthier relationships and increased skill — and 98% of the time, our interventions successfully avoid child placements. As in so many other areas of our programming, we work hard to earn and maintain the trust of our communities, partnering with them to create brighter futures for all of our children.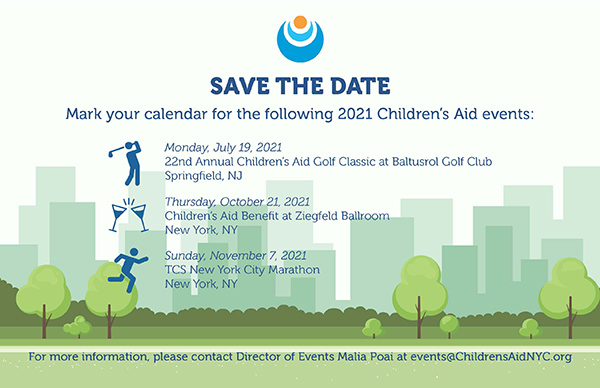 AM New York:
Gillibrand and Williams Call for Emergency Increase of Nutritional Programs
Chalkbeat:
NYC Students in Foster Care Need Dedicated Office and Guaranteed Busing, Advocates Say
Chalkbeat:
NYC's Free Child Care Program Turned Away Students With Disabilities. Some Parents Fear a Repeat for Summer School