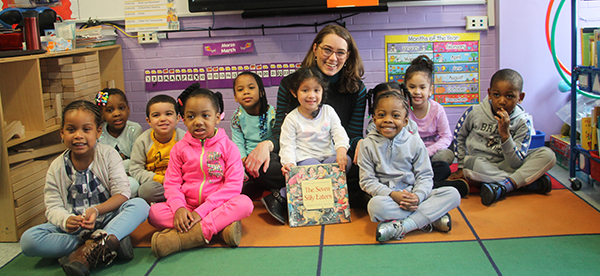 As the summer came to a close, our families were faced with a difficult decision: Did they feel comfortable sending their children to school in the midst of this pandemic? In order to decide, information was critical, but families were receiving conflicting and frequently changing guidance. Navigating a confusing maze of messages, our families turned to a trusted partner for support: their Children's Aid program contacts, who provided them with up-to-date information, clear directions, translations, medical guidance, and more. In addition to these critical services, our policy team also helped communicate families' struggles to government representatives, advocating for programs and practices that can support the academic and social-emotional recovery of our young people.
In preparation for the start of the school year, we reopened additional sites for in-person programming. With the safety and well-being of our children and sta­ff in mind, we ensured that our protocols were continuously updated to comply with the city's health department guidelines, which includes temperature checks, mask and PPE adherence, and cleaning procedures for classrooms, program spaces, and offices. Our health and wellness staff prepared to reopen our school-based health centers to address the medical and mental health needs of students.
Since the school year began, our children and youth have reaped the benefits of in-person services, including early childhood classes, opportunities to socialize with peers, keeping up-to-date with routine vaccines, and more. For children who are learning remotely, we have continued o­ffering high-quality programming virtually, to keep them engaged, stimulated, and learning. For remote learning students who have had limited access to broadband or remote devices, we have worked to secure access to the technology they needed throughout the pandemic, and will continue to do so in the coming weeks.
There will be challenges ahead, but our educators, social workers, therapists, doctors, nurses, and life coaches will continue to ensure our children recover and thrive in a safe and supportive atmosphere — whether on site or at home.
Sincerely,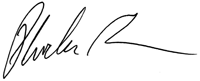 Phoebe C. Boyer
President and Chief Executive Officer
EXECUTIVE UPDATE:
We're excited that our executive headquarters relocated to West 124th Street in Harlem this past August. This move allows our central services staff to work closer to many of our families, community centers, and schools, and provides economic activity.
We're thrilled to announce that an anonymous board member will be matching all online GivingTuesday gifts made on our website on December 1, 2020!
THE PATH TO PROMISE
Digitally Meeting the Rise in Mental Health Needs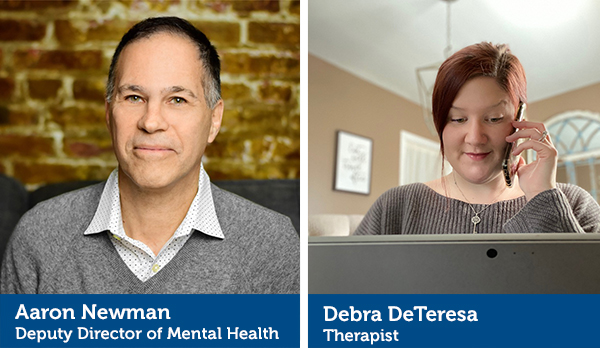 When students and families across New York began to shelter at home due to COVID-19, the Children's Aid mental health team knew they needed to transform the way they provided services.
Aaron Newman, the deputy director of mental health at Children's Aid, said his team worked tirelessly to make sure the youth and families we serve – through individual, family, crisis, collateral, and psychiatric services in our community-based and school-based health clinics, and our home-based clients – could manage their mental health needs.
"We were just very proactive," he said.
"We immediately began reaching out to our clients and their parents and checking in. For some kids and families, we had to talk to them on cell phones. Some had desktops or tablets. It was really unique in terms of finding out what each client needed from a tech standpoint."
While some clients felt comfortable with video sessions, others wanted to take walks or sit on their fire escapes with their phones for privacy. The mental health team accommodated every client's needs.
Staff treating youth with issues of impulse control, complex trauma, or parent-child conflict saw those issues heightened when the pandemic hit. The clients we serve also live in some of the communities hardest hit by the virus like Washington Heights and the Bronx, which led to a 33% spike in our mental health services, addressing loss, grief, depression, anxiety, stress, and financial hardship.
But clients also showed "tremendous resiliency," Aaron said. "We saw a lot of strength in some of our most complex families that we did not expect."
Telemental health services also allowed parents and caregivers to become active participants in their children's sessions. When students see a school-based therapist, it's mostly in a school setting without a guardian. Switching to telemental health has allowed our team to build stronger relationships with families.
"A therapist's office is a very artificial way of working with a client, particularly with youth," he said. "We were able to communicate more consistently with the parents. We essentially had a virtual home visit every session."
Telemental health services also increased the number of clients Children's Aid has been able to reach, since we were not limited by physical geography. The "show rate" before the pandemic – the percentage of clients who actually kept their appointments – hovered around 60 to 65 percent. Now, the percentage is 80 to 90 percent.
"It's a really powerful tool," Aaron said. "When so much of New York City shut down, we didn't miss a beat."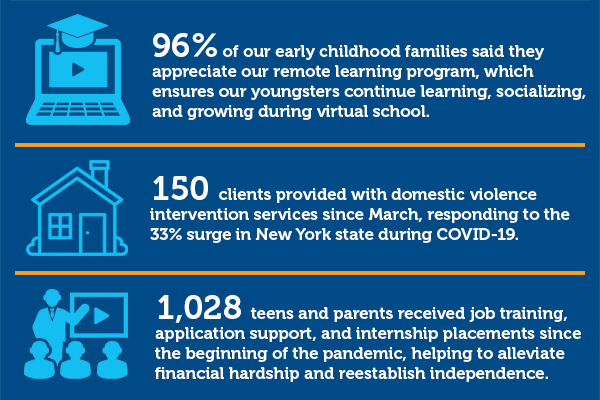 PROGRAM UPDATE
Media Appearances Highlight the Children's Aid Impact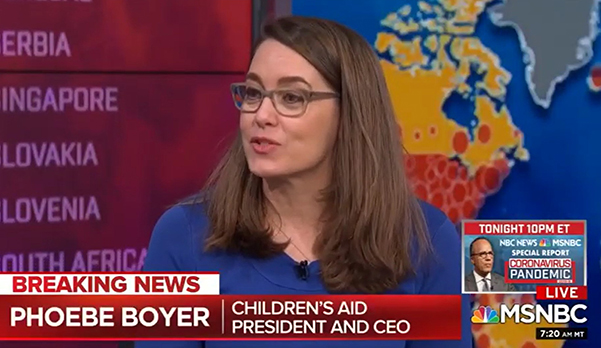 When a pandemic forced the city to shut down in March, Children's Aid leadership worked in partnership with local and national media to shine a light on the herculean efforts our staff took to make sure families still received critical services.
In eight television appearances in outlets such as MSNBC, PBS, NY1, and Telemundo, compelling accounts highlighted the difficulties our families faced and how Children's Aid responded to those challenges.
President and CEO Phoebe C. Boyer spoke on MSNBC about the digital divide and our agency's effort to make sure every child had access to technology during remote learning.
Dr. Brenda Triplett, the director of educational achievement and partnership, highlighted our efforts to ensure that every child we serve, including those in foster care, had access to books while sheltering in place.
Several of our television appearances also showcased our efforts to feed our families. Through our Food Box program, we provided fresh fruits and vegetables to thousands of our families, along with prepared meals and baby supplies such as diapers and wipes.
Our early childhood staff hand delivered food to our families who were too nervous to step outside due to the pandemic, and were dealing with sickness, joblessness, and immigration fears.
When the city announced plans to cut the Summer Youth Employment Program, Executive Vice President Sandra Escamilla-Davies rang the alarm to warn that cutting funding to the program would have dire consequences for thousands of young people — especially young people of color.
Viewers learned what our families were struggling with, witnessed how we quickly adapted to ever changing circumstances, and many reached out to offer help.
See media highlights of our coverage. 
YOUTH ACTIVATED
Bronx Virtual Town Hall Serves as Vital School Reopening Resource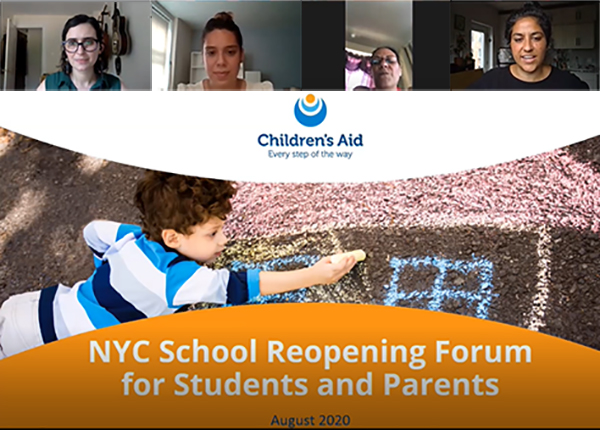 As the city prepared for an unprecedented school year, we made sure we heard directly from our community members about the incredibly complicated task of reopening schools during the pandemic. In August, our Public Policy team partnered with our Bronx Impact initiative, which brings together residents, nonprofits, businesses, and government officials to implement solutions that increase social mobility in high-poverty South Bronx communities. Together, Public Policy and Bronx Impact hosted an NYC School Reopening Forum to provide an opportunity for students, parents, teachers, principals, and others in the Bronx to openly discuss how they were feeling about reopening.
The community members expressed a wide range of concerns, thoughts, and ideas around school reopening, ranging from personal protective equipment and safety supplies, to mental health of students as well as teachers. There was a sense of being caught between two undesirable choices; torn between worry about students' socialization and academics, and worry about the safety level of schools reopening.
The forum also took the opportunity to clearly explain to community members the choice parents had to make between remote and blended learning options. There was a real sense that parents either did not know about the decision deadline, or were confused about the choices. The forum was held a few days before a decision was due to the Department of Education, so the team was able to present to forum participants the two choices, and how to switch back and forth between them during the school year.
Community members that attended the forum expressed that they greatly appreciated the time to speak with others about their concerns, and were especially grateful to have a space where they could be heard. Public Policy and Bronx Impact will be keeping front of mind all they learned at the forum in their work, and are hoping to have similar events in the future to ensure our advocacy is informed by the very communities we aim to impact.
IMPACT
Persevering Through COVID-19 Food Shortages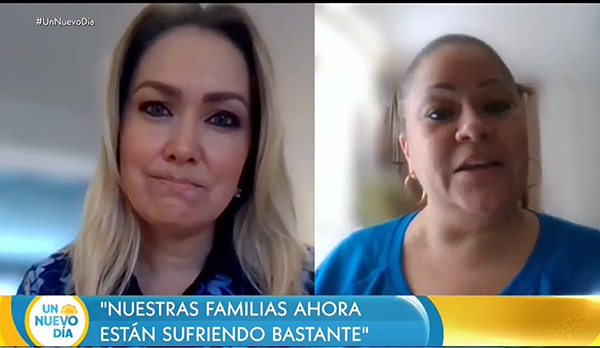 At the beginning of COVID-19, Luz Ramirez and her 3- and 4-year-old grandkids in her care, Aubrey and Milagros, were bearing the brunt of living in the world's epicenter. The children were enrolled in our Bronx Early Childhood Center, and when school went virtual and people began to panic shop, Luz lacked virtual devices and faced a diaper shortage. Fortunately, Children's Aid was able to provide remote devices and emergency diaper deliveries, but then the family — just like many others in New York City — continued to grapple with another major concern: food access.
During quarantine, the children no longer had access to the meals they received every day at school. That extra burden and expense fell on Luz, who was trying her best to navigate the unexpected costs, and the risks of COVID-19 exposure. "It was stressful to find food at the store because the supermarkets were out of stock, and there was a line down the block," Luz remembers. "And I have a 3- and a 4-year-old at home, and if I took them with me to go grocery shopping, they would keep taking their masks off while we wait in line. It risked exposure," Luz said.
Children's Aid was hearing similar concerns expressed from other families, so we worked with a few other nonprofits to coordinate a massive food pickup and delivery program. When she was able, Luz picked up nonperishables and hot food Children's Aid prepared at one of our distribution stations. In addition, every Thursday we delivered a box of vegetables directly to her home to help lessen the amount of risk and exposure she had. "Home delivery is a blessing. There's even a list of ingredients and Zoom cooking activities to involve the kids," she said. Luz was even featured on a Telemundo segment highlighting food insecurity in New York City, discussing the importance of food relief programs today.
With school restarting, Luz is remaining cautious. She's planning on sticking to remote learning for the first four weeks, then sending her kids back to school three days a week if there are no virus spikes. Children's Aid still continues its food relief program to help families who have come under additional financial strain during these difficult times.
DETERMINED YOUTH
Young Immigrant Perseveres Through Multiple Obstacles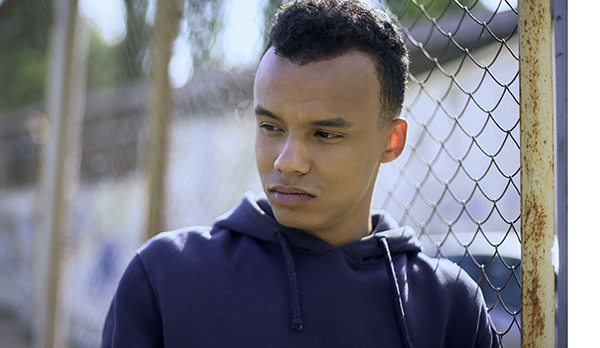 On a cold winter night in February 2017, a New York City police officer noticed a 17-year-old boy sleeping on the subway. His name was Miguel*, and he had immigrated here from Guatemala to escape the gang violence, murder, and extreme poverty in his native village. He was then placed into Children's Aid's foster care program.
When he first entered his new foster home, he struggled with PTSD and suicidal thoughts. He was traumatized from his years growing up in severe poverty, and the recent homelessness and family separation he experienced after coming to New York City. Miguel was grateful for the roof over his head and the newfound stability offered by his new foster family, but he needed a lot of support. The process took several years, but through the dedication of Children's Aid's foster family and mental health services, he transformed into a young man with a purpose and became focused on securing employment and sending money to his family back home.
The problem, however, was that he wasn't legally allowed to work in the United States, so Children's Aid's legal advocacy services worked closely with an immigration lawyer to secure Miguel "special immigrant juvenile" status. This paved the way for him to obtain a green card.
Shortly after this bright spot, his progress was interrupted by the challenging job market created by the pandemic. During these uncertain times for Miguel, Children's Aid continues to help him look for employment, and provides him with mental health support, basic necessities, shelter, and access to an enrichment center for young adults. He has hopes for good things to come in 2021.
*An alias name and stock photo are being used to protect the safety and security of our client.

City & State New York:
The 2020 NYC 40 Under 40 Rising Stars
New York Times:
When Schools Closed, These Remote Learners Needed Extra Help
Politico: